Graham Reid | | 1 min read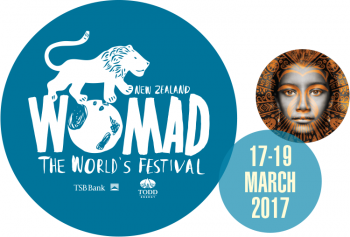 As regular readers of Elsewhere will know, we have had a long tradition of writing about world music here.
In fact we sometimes boast that we are the ony place which regularly gives coverage to music from other parts of the planet beyond the Western pop and rock axis, check out our world music reviews, interviews and so on here.
So we always applaud the annual Womad festival in New Plymouth on a site which must be counted among the best in the world for this colourful and sometimes exotic traveling show.
There's much to like about Womads: not just the music but the food, the artists talking about their culture and cuisine, the mussel fritters, lesser-known local acts fitting in alongside globally acclaimed stars, the mussel fritters, the kid and elderly-friendly vibe, the mussel fritters . . .
And there is always a musical discovery to be had, usually three or four day. Have a look at our coverage of previous festivals starting here.
Among those coming to New Zealand next March are a few we have heard of and written about (among them 9Bach and Oumou Sangare) and we welcome the return of Indian singer Sudha Ragunathan who was here in 2013. But it is always those you don't know who surprise and delight.
Much as we might like to write our own synopses of the many artists on the line-up, time is against us so we happily refer you to the Womad site here for the artists' biographies . . and here for ticketing information.
But just for your titillation before you go there, here in alphabetical order is the line-up . . . and what's not to be excited about?
See you there. I'll be at the mussel fritters stand from time to time!
9Bach (from Wales), Ana Tijoux (Chile), Archie Roach (Australia), Aziza Brahim (Western Sahara), Bebel Gilberto (Brazil), Brushy one string (Jamaica), Emir Kusturica & the No Smoking Orchestra (Serbia), Hanoi Masters (Vietnam), Hot 8 Brass Band (USA), Inna Mojia (Mali), La Mambanegra (Colombia), Lord Echo (Wellington/Aotearoa), Mercedes Peón (Spain), Mt Eden (Auckland/Aotearoa), Oumou Sangare (Mali), Rob Ruha (Matakaoa (Gisborne)/Aotearoa), Sinkane (Sudan/USA), Sons Of Zion (Auckland/Aotearoa), The East Pointers (Canada), The Soil (South Africa), The Specials (UK), The Swan Sisters (Christchurch/Aotearoa), Sudha Ragunathan (India), Swamp Thing (Tauranga/Rotorua/Aotearoa), Warsaw Village Band (Poland)