Graham Reid | | 1 min read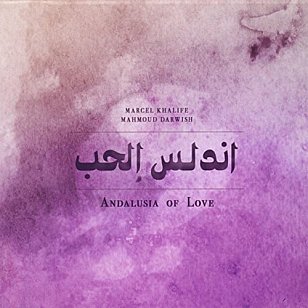 Anyone watching "developments" in that collision of Israel and Palestine these days can't but feel this disputed ground is, sooner rather than later, going to be just scorched earth.
And neither Palestinian nor Israeli natonalists are going to survive the firestorm of their own making.
But . . .
Politics aside -- if that is ever possible in thiat narrow world where righteous indignation, utterly fucked-up religious/political positions and generations of retaliation can ever be resolved -- then . . .
We here have the remote luxury of looking beyond territory and the various factions' need to prevail.
We, like many musicians, try to take the long view.
When the poet Mahmoud Darwish died in 2008 at age 66, the Palestinian people lost one of their greatest writers and political voices. His inspirational work spoke of spiritual and temporal loss, a people in exile and a yearning for reconciliation.
Lebanon-born oud player and composer Marcel Khalife was so moved by Darwish's work that he adapted a number of pieces for his repertoire, and the poet remains a guiding light in his life and music. Here with his sons Rami on piano (a graduate of Juilliard) and Bachar (a cross-genre percussion graduate from France), Marcel explores that emotional spirit again and it impels this music to great heights.
Although his sons have made independent names for themselves in the crossover of world music, jazz and orchestral works, this 14-piece collection is a tapestry songs and spare instrumentals based on a lengthy love poem by Darwish. The focus is on the Arabic tradition in engrossing miniatures and profoundly emotional singing.
Pieces like the moving "Nassiti" — which opens with elegant minimalism — transcend language and cultural divides to convey a deep sense of sadness with just enough suggestions of hope.
As much as it comes from a long tradition and also reaches to the Islamic history in Southern Spain, this collection also sounds utterly contemporary as their individual musical influences from Rami's Western classical allusions and Bachar's jazz-like accents are woven through.
The brief "Faracha" is an almost avant-garde expression of the tradition.
Engrossing.
And beyond politics . . . although we aren't so stupid to think this isn't, at some base level, "political".