Graham Reid | | 4 min read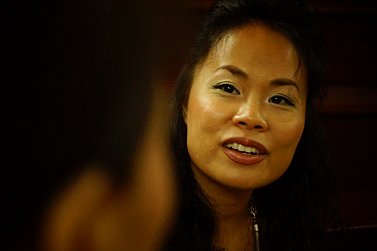 Since Vietnam opened itself for Western tourism in the mid Nineties, thousands have travelled there to experience the wonderful food, cheap beer, beautiful beach and mountain villages and the hospitality of the people.
These days however – with luxury hotels with infinity pools at places which were largely deserted in those early days of openness (when Elsewhere visited a couple of times, see travel stories scattered down this page here), it seems fewer and fewer tourists are hearing authentic Vietnamese music but rather more of Phil Collins and the Police coming through the soundsystems.
Vietnam has its own folk and rock also (of that another time) but at the 2017 Taranaki Womad there will be the Hanoi Masters who have worked with some famous Westerners but maintain a mainline to the folk tradition using zither, the single string k'ni, percussion and vocals.
It can sound strange to ears more inclined to the Collins/Police axis, but it's the real thing so it's our pleasure to introduce the Hanoi Masters here and this interview with the very generous music director Van-Anh Vo who shares a chicken recipe too . . .
The first musician whose music really affected you was . . .
When I started to work with Kronos Quartet, my music has changed completely and I could see my musical path clearly. Yes, I won Vietnam National Championship Title for my traditional instruments, when I was in Vietnam, I played music that mostly stay on the preservative side. There are beauties on preserving traditional music. However, since moving to America in 2001, I know that I want to do more than just preserving our culture. I want to develop and find ways to carry these traditions and customs into the future. The traditional music that I am doing has to be strongly rooted in our 4000 year history but carries voices of my/our own generation or the heart beats of this 21st century. Working with Kronos Quartet, I believe that I can [do that] too.
Your first appearance on stage before an audience was . . . (And you were how old?)
I was 8 years old when I was first on stage playing a traditional tune for the new year celebration of the city. It was very scary experience at first since I felt so small in front of hundreds of people. However, I could overcome this moment by telling myself that I should just enjoy the music myself. I am still using this trick to overcome my nervous if there is any.
If music was denied you, your other career choice would be . . .
I would be a chef if I am not a musician. It is because if I can not be the "chef" for people's souls, then at least I can still be creative, cook, and feed people one of their basic needs in life.
The three songs (yours, or by others) you would love everyone to hear because they are so emotionally moving are . . .
- The Legend (my original from my CD Three-Mountain Pass)
- Simple Song #3 by David Lang
- Gnossienne #3 by Eric Satie – my version on dan Bau – 1-string instrument (from my CD Three-Mountain Pass)
The most unusual place you have performed would be . . .?
- The White House. Yes, I was invited to play at the White House early of this year. Going through a special security clearance process including sending pictures of my instruments 2 months a head of time was very unusual.
The most important book you have read is . . .? And why?
Outliers by Malcolm Gladwell! I have learnt that to be successful, all small efforts will count. The fact is that we are born with the same abilities to do things in life; however, to be able to expose to one specific subject early in life will be the key aspect to put us on the successful track. Also one who want to master on something, that person should spend 10,000 hours of practicing the subject that he/she wants.
Even though I already finished my 10,000 of practicing right before winning the Vietnam National Championship tittle for my instruments, I still keep practicing and work hard on new learning and never think that I am more special than others because I am talented. I know that I am better than others and can only be better than others when I keep working hard.
If you could get on stage with anyone it would be . . . (And you would play?)
I am dreaming to play with Sting and Santana! Of course I will play all of my three main instruments: dan Tranh (16-string zither), dan Bau (1-string instrument), dan T'rung (bamboo xylophone) and vocal.
These two rock legends have very special ways to unleash the power and energy through their music while still providing great instrumental solos and arrangements for the songs.
The three films you'd like anybody watch because they might understand you better are . . .
- Indiana Jones series
- Heaven and Earth by Oliver Stone
- The Martian by Ridley Scott
The last CD, vinyl album or download you bought was . . .
Formation by Beyoncé and Homogenic by Bjork
When you travel, what is it you most miss about your home country?
- Food, of course. However, I love exploring new cuisines and I also know that I will be home soon with family and food.
The artist you most admire would be . . .
- Kronos Quartet and Yo-Yo Ma. In an ideal world, I wish every artist would have a chance working with these two artists so they can learn and get influences from Kronos and Yo-Yo.
Your favorite meal to share with friends would be . . .? (Care to share a simple recipe?)
My favorite is Vietnamese Chicken Salad. Making this is very simple: 400gm chicken meat (dark meat tastes better): boil with 2 teaspoons of salt, teaspoon of sugar, one inch of ginger, and one shallot. After the chicken is cook, wait for the meat cool down then use hand to shred into small long pieces.
Mix the following ingredients together:
+ 1 big white onion: cut and put into cold water mixes with vinegar for 30 minutes. Take it out and let it dry.
+ 2 tablespoons fresh lime juice
+ 1 tablespoon white sugar
+ 1 tablespoon rice vinegar
+ 1 teaspoon black pepper
+ 1/3 cup finely chopped dry roasted peanuts
+ 1/3 cup chopped fresh Vietnamese cilantro
+ 1 teaspoon salt
Mix the chicken and onion together. Sprinkle the salt and sugar on the chicken meat and onion.
Mix vinegar, lemon juice, pepper together. Pour this liquid on the chicken and onion. Mix everything together
Mix the Vietnamese cilantro
Put everything on a plate and sprinkle the dry peanut on top of the meat. Everything should be ready to serve now.
Do you practice every day, and if so for how long?
Yes. I try to practice 3 hours per day and more when I have new music.
David Bowie sang, "Five years, that's all we've got . . ." If that were true, you would spend them where, doing . . .?
I would spend time traveling in Bali, Turkey and Africa continent. Of course to learn about these countries' culture, people, and music and hopefully I can share my music with them too.
And finally, do you have any unrealized goals in music?
I would love to do scores and record for movies (not only documentary) and play music with National Symphony Orchestra in D.C.
.
For details on Womad artists and booking information go here.