Graham Reid | | 1 min read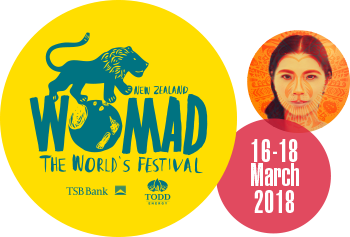 If the first anouncement of an act for next year's Womad festival in Taranaki was a bit undewhelming (Dragon) now it is starting to get serious with two major artists announced, Kamasi Washington and Anoushka Shankar.
Both of these artists have appeared at Elsewhere and we have a big interview with jazz saxophonist/arranger and composer Kamasi Washington here and an archive one with Anoushka Shankar -- a daughter of the late Pandit Ravi Shankar -- here.
For those who missed Kamasi Washington and his big band at the Auckland City Limits Festival in 2017, he put on a terrific show which -- like his album The Epic of 2015 -- was a boiling mass of jazz. funk and soul. At times it felt like a mid Seventies soul-funk review . . . and it also looked like it too.
This is a genuinely exciting announcement.
As is the appearance of Shankar who trained as a sitar player with her father but has extended her interests into transcendental ambient music, East-West fusion, Indopop and has worked with her half-sister Norah Jones.
I'm pretty sure she hasn't been back to New Zealand since her impressive 2008 concert (reviewed at the end of that interview) in the Auckland Town Hall. A number of her albums and recorded appearances are at Elsewhere starting here.
These are important artists and this is Womad startng to get serious . . . more acts wil be announced on October 18 and Elsewhere wil, as always, bring you that news.
We are one of the few websites in the country which regularly writes about world music . . . and in instances like these acts you probably heard about them first at Elsewhere.
For more on next year's Womad including tickets etc check out their website here.