Graham Reid | | 1 min read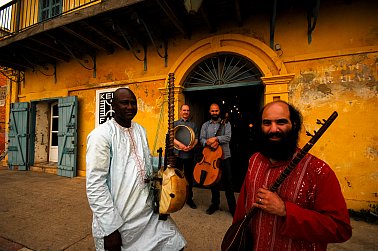 For nearly twenty years the ensemble Constantinople -- with memebers from Canada and Senegal -- have explored musical diversity through the lens of 'East meets West',an ever changing melting pot, much like the city after which they are named.
Their inspiration for their Jardins Migrateurs performance is a poetic meeting between strings and voice, with griot Ablaye Cissoko adding kora, in a celebration of life and nature.
And now they are coming to New Zealand to play the Taranaki Womad next year (more details below) so we thought it timely to invite someone from the group, its artistic director and sitar player Kiya Tabassian, to answer our specially designed world music questionairre.
The first musician whose music really affected you was . . .
Hossein Alizadeh
Your first appearance on stage before an audience was . . . (And you were how old?)
I was 13 years old and it was with the first ensemble for which I composed music in Tehran.
If music was denied you, your other career choice would be . . .
Music!
The most unusual place you have performed would be . . .?
Constantinople's viola da gamba player once performed a 3 hour-concert in a bathroom!
The most important book you have read is . . .?
Divan-e Shams, by Rumi
If you could get on stage with anyone it would be . . . (And you would play?)
Shashank Subranyam
The last CD, vinyl album or download you bought was . . .
South Indian Carnatic music
When you travel, what is it you most miss about your home country?
My family
Your favourite meal to share with friends would be . . .? (Care to share a simple recipe?)
Zerechk polo (chicken with safran rice)
Do you practice every day, and if so for how long?
Yes I do, a few hours.
David Bowie sang, "Five years, that's all we've got . . ." If that were true, you would spend them where, doing . . .?
Close to my family, creating music.
And finally, do you have any unrealised goals in music?
Many! Constantinople just opened a music centre in Montreal and its development is full of new goals to achieve! Have a look here.
For more on next year's Womad including tickets etc check out their website here.