Graham Reid | | 1 min read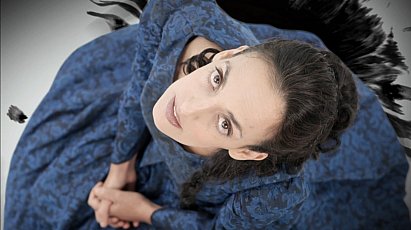 The annual Womad festival in Taranaki brings diverse artists not just from all over the world but through many genres, from raw folk to spiritual songs, from cultural dance music to electronica.
Victoria Hanna, raised in an ultra-orthodox Jewish household in Jerusalem, touches on nearly all of those in her set.
She found a way to express herself and overcome her stutter when she discovered secular music, and the result is most unexpected.
A singer who performs Aramaic hip hop and wild, hypnotic and rhythmic raps on ancient Hebrew texts, Hanna is an experimentalist who is both unpredictable and bewitching.
With Womad arriving in New Zealand next month (details below) it is very timely to have her answer one of our specific world music questionnaires . . .


The first musician whose music really affected you was . . .
Umm Kulthum
Your first appearance on stage before an audience was . . . (And you were how old?)
At the Jerusalem music festival for children. I was 6 years old.
If music was denied you, your other career choice would be . . .
Healer.
The three songs (yours, or by others) you would love everyone to hear because they are so emotionally moving are . . .
To Bring You my Love - PJ Harvey
Hayoshevet Baganim - Victoria Hanna
Gloomy Sunday - Diamanda Galas
The most unusual place you have performed would be . . .?
A small village in Mongolia.
The most important book you have read is . . .? And why?
Book of Creation - I got a lot of information and inspiration from it for my work.
If you could get on stage with anyone it would be . . . (And you would play?)
Bjork. We would both sing.
The three films you'd like anybody watch because they might understand you better are . . .
Latcho Drom
Koyaanisqatsi
Baraka
The last CD, vinyl album or download you bought was . . .
Fatima Miranda
When you travel, what is it you most miss about your home country?
The Dead Sea
The artist you most admire would be . . .
Diamanda Galas
Your favourite meal to share with friends would be . . .? (Care to share a simple recipe?)
Fresh Salad, we eat a lot of salad in Israel.
Do you practice every day, and if so for how long?
Every second
David Bowie sang, "Five years, that's all we've got . . ." If that were true, you would spend them where, doing . . .?
Singing, composing and recording everywhere, and a lot in nature
And finally, do you have any unrealised goals in music?
Endless goals
.
For more on next year's Womad including tickets etc check out their website here.