Graham Reid | | <1 min read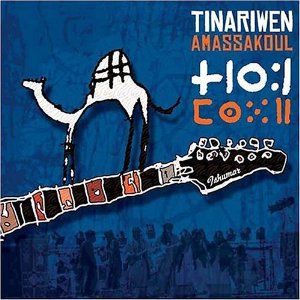 Tinariwen were from a group of stateless wanderers who lived at the whim of weather and changing political climates in the greater Sahara, and were educated in the language of armed struggle.
In the 80s they developed their music of exile. But just as blues singers from America's south found acoustic guitars didn't cut it in the hard-edged cities like Chicago, Tinariwen needed a tougher form of expression than their traditional instruments.
They picked up electric guitars and battered amplifiers. What you hear is hypnotic blues from Northwest Africa played on barbed wire guitars and little else other than handclaps and vocals.
At times this seems closer the hard-edged blues on the Fat Possum label (RL Burnside, T Model Ford), however on tracks like the gentle and melancholy Francophone rap-poetry of Arawan -- with women ululating in the distance -- it can be heart-achingly beautiful.
But mostly this is earthy, electric - and electrifying - blues from people who earned the right to sing it.