Graham Reid | | 3 min read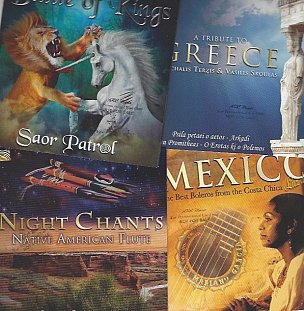 Here's a frequent flyer/transit lounge/vicarious listening music column for those at home who want to get their musical passport stamped.
Elsewhere has so many CDs and downloads commanding and demanding attention that we run occasional columns which scoop up releases by international artists (IN BRIEF), in much the same way as our SHORT CUTS column picks out New Zealand artists.
And of course Yasmin Brown picks up EPs in her column.
But we also go international . . .
.
Saor Patrol: Battle of Kings (ARC Music)
This powerful Scottish rock band – once called "the Motorhead of Folk" by Lemmy – have long been in the vanguard of bringing traditional music and culture into the world of 21stcentury rock by leading with the pipes over three drummers and angry electric guitar.
It makes for a strident, powerful and heart-moving sound, especially if the thrill of bagpipes is in your DNA (as it is mine). Most people know the pipes from jokes like, "Why do pipers walk when they play?" (A. To get away from the sound). But as Charlie Allan – a huge and handsomely-bearded man who looks like he's just down from the remote Highlands – – here proves, they as capable of touching sensitive parts of the soul as much stirring the heart and head for battle.
Inspired the story of Robert the Bruce, these 11 instrumentals and one vocal track (the blood-soaked ballad Aftermath) – their background explained in the liner notes – are testament to the independent spirit of Scotland and will put fire in the bellies and hearts of those disposed to Home Rule and Scottish history. Their version of Amazing Grace is probably unlike any you have heard.
Road to the Isles, by Saor Patrol
Michalis Terzis and Vasilis Skoulas: A Tribute to Greece (ARC Music)
Acclaimed composer Terzis and Cretan singer/lyra player Skoulas here lead a large but restrained ensemble on guitar, traditional lute and bouzouki, and percussion on a series of original Terzis songs which are by turns stirring, sentimental and lyrical.
Quite often with world music an inability to understand the language isn't a hinderance (although obviously layers and layers of meaning can't be appreciated) but here with no translations these lyric-heavy songs can't be appreciated beyond the most vague grasp of the sentients being expressed.
One for those who do have the language.
Diskoli pou'nai i Lefteria, by Terzis and Skoulas
Gary Stroutsos: Night Chants; Native American Flute (ARC Music)
Although not a Native American – he is Greek-Italian – the jazz-trained flute player Stroutsos has immersed himself in many flute styles (Chinese and Cuban among them) but has a particular affinity with traditional Native American instruments, stories and songs. He has researched and presented the work of indigenous flute composers and performers whose work might otherwise have been lost.
Using traditional instruments or faithful replicas of more ancient one, Stroutsos here presents original pieces which evoke or invoke the spirits which have long since passed and have at their heart a sense spiritual quiet. In the respectful liner notes he says how hearing the wind in Canyon de Chelly showed him space and sound can collaborate to be an inspiration and bring to life how these flutes must have sounded.
Some might hear this as New Age but with thoughtful consideration of the kind Stroutsos brings it is something much more.
If Native American news and music and culture is of intetrest check this out.
Rain, by Gary Stroutsos
Various Artists: Luz de Luna; The Best Boleros from the Costa Chica (ARC Music)
Whether these are the best boleros we leave to experts, but this 19 song collection – with excellent liners notes and lyrics in various local languages but not in translation – is certainly an enjoyable experience. Eight different artists play the songs of the bolero legend Alvaro Carrillo who was killed in a car crash in '69.
The compilers of this went to see if his music was still alive after all this time and found it in villages and towns and influencing bolero composers today. The youngest person they recorded was 14, the oldest 90 and out of the wealth of talent they chose these artists, among them the remarkable voices of Pedro Torres and Fidela Pelaez who get five songs each. Las Hermanas Garcia record a delightful version of Carrillo's most famous piece, the beautiful love song Sabor A Mi/The Flavour of Me.
With the right attention this could be the Buena Vista album of Alvaro Carrillo's lovely songs and introduce these performers to the wider world.
Highly recommended.
A Quien, by Fidela Pelaez