Graham Reid | | <1 min read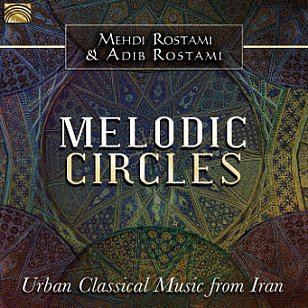 Subtitled "Urban Classical Music from Iran", this album by the Rostami cousins captures both the magic and complexity of this largely improvised music on the four-stringed setar (Mehdi) and the single tombak goblet drums (Adib).
Those who have listened to Indian music will feel quite at home here (think setar/sitar, tombak/tabla if it helps) because there is a bloodline which runs across a similar latitude, and these two major Melodic Circle pieces here are explored in distinct but linked parts in the manner of a raga, although the influence is from Kurdish music.
That influence however is something only those seriously in the know would understand but those of us far from the centre can certainly appreciate the musicianship, evocative melodies, the furious energy at times and the interplay of the musicians.
The liner notes offer explanatory assistance but it is possible to just play the music and immerse yourself in its evocative and exotic timelessness.
One for Womad regulars and those well disposed to music from this region.