Graham Reid | | <1 min read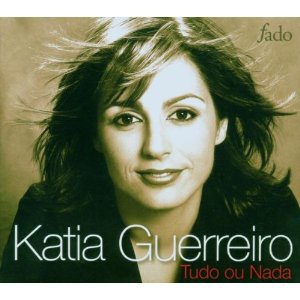 World music purists -- those who think listening to international music is morally empowering, as opposed to just plain enjoyable -- don't like to admit that there are waves of fashion in world music just like in Western pop.
The juju of King Sunny Ade gave way to South African music (thank you Paul Simon), and the Cajun/zydeco years which followed were in turn swept aside by the Cuban Revolution when the Buena Vista Social Club and its offshoots became a global phenomenon.
That seems to have run its course, and now fado -- the mournful traditional music of Portugal -- seems to be everywhere, certainly in the pages of world music magazines.
Frankly I have found most fado albums astonishingly dreary and endlessly melancholy.
Until now.
Thirty-year old singer Katia Guerreiro -- a doctor who formerly fronted a rock band -- puts a spin on the old style and, with a hot little group, turns traditional fado on its head on this album which just leaps out of the stereo.
With a voice which quivers with emotion like Edith Piaf, hovers like a bird over the backing of chiming classical guitar, or tears straight at the heartstrings like Billie Holiday (albeit in a language most of us don't understand), Guerreiro is one of the great discoveries of recent years.
This is a powerful, affecting, sometimes surprisingly uplifting, and quite exceptional album.