Graham Reid | | <1 min read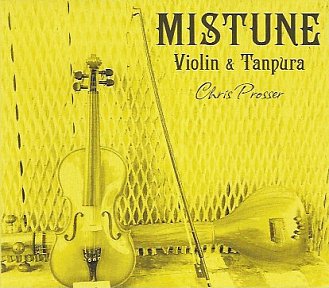 Violinist Chris Prosser was one half of the innovative and genre-defying duo Besser and Prosser (with pianist Jonathan Besser) in the Eighties. After two albums they went on separate paths: Besser also part of the Free Radicals electronic outfit with Ross Harris then into many other directions; Prosser back to London for 20 years before returning to New Zealand a decade ago.
These days he is involved in theatre music, free improvisation, running his own Rongotai label, playing klezmer music (as he did in Besser and Prosser) and playing again with Besser.
But here – using different tunings and with Susan Thomson providing the tanpura drone – he offers 15 stark pieces which, despite the presence of the Indian tanpura, reach into other other cultural and musical references.
You can certainly hear elements of Balkan and Jewish folk laments in some pieces, a sense of yearning and loss in others (the measured lachrymose tone of Standard) and a sense of timelessness – or times past -- in others (the almost wearily romantic Thrum).
The overriding sensibility is of gravitas and penetratingly dark melodies so it goes without saying that such spare, serious and emotionally demanding music is not for the casual listener.
However for those prepared to accept the drone, atonal aspects and the sparse settings there are many rewards here, especially when sampled slowly to appreciate the uniqueness of each piece.