Graham Reid | | 1 min read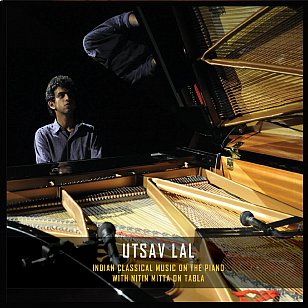 Elsewhere will occasionally preface or conclude comments on albums with something like "not for everybody". The implication is that the music is of some specialised nature, but the hope is that it will spark curiosity. Perhaps among those who think they aren't like "everybody"?
This album -- which we have placed under World Music but might just as easily be in Jazz in Elsewhere -- is one of those.
Playing ragas on piano is neither easy nor something which seems likely given the Indian melodic systems are full of microtones and very different scales.
But this gifted 26-year old – who has studied jazz, classical and Indian music, and played at Carnegie Hall, the Kennedy and Southbank Centres – here presents his sixth album in the genre and it is quite remarkable.
For those who doubt a raga on piano is possible, he teases out the melodies, explores the notes in lengthy alap sequences and even manages to sound like he is bending notes or gliding between them.
The shortest piece is the five minute Raghupati Raghav Raja Ram (with tabla player Nitin Mitta of jazz pianist Vijay Iyer's Tirtha trio) which is a delightful devotional song, much enjoyed by Gandhi. It is probably the easiest way in for those concerned about this not being for everybody.
The album opens with a 28 minute treatment of the night raga Malkauns which is a leisurely, almost ambient, exploration full of space (which lets the notes hang in the air) and favours the alap and jhor sections before building to the more rapid jhalla.
There are three solo pieces, two with Mitta and the surprising centrepiece is a slow and thoughtful treatment of Blind Willie Johnson's Dark Was the Night Cold Was the Ground on which Lal proves an accomplished blues player, and it doesn't seem out of place.
No, probably not for everyone . . . but certainly for more than many might think.