Graham Reid | | <1 min read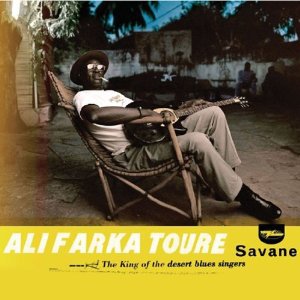 The late Toure was one of the greatest singer-songwriters to emerge out of the musically fertile region around Mali in the last century.
The area -- from which numerous slaves were taken to the United States -- was the crucible for music which, after the Middle Passage, became the blues. Much of Toure's music invited comparisons with John Lee Hooker (his commanding, dark vocals, his stinging guitar work) although in recent years critics also his earthy style in the likes of R.L. Burnside and artists on the Fat Possum label.
Outside of world music circles he came to greater attention for two superb albums: Talking Timbuktu with Ry Cooder (1994), and In the Heart of the Moon last year with Toumani Diabate (see tag).
This album finds him at his most bluesy (there is a harmonica player on some tracks) and also has Pee Wee Ellis (longtime saxophonist with James Brown's bands).
It's African, it's the blues, and it is also a great testament to a man whose music bridged the divide of the Middle Passage.