Graham Reid | | 1 min read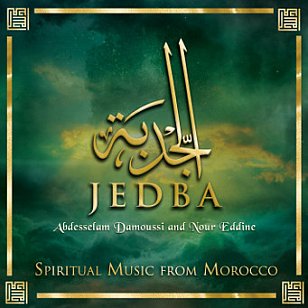 Those who have been lucky enough to go Morocco – or who have been curious enough to check out the various musics which come from there – know how mesmerising it can be.
Over the decades everyone from Brian Jones of the Rolling Stones, Ornette Coleman, Paul Bowles, Led Zeppelin and others have explored Berber sounds, Sufi spiritual songs, Gnawa music, the Master Musicians of Jajouka (and their offshoots) and many others famous or little known.
The small Sufi ensemble here lead by producer/arrangers Abdesselam Damoussi and Nour Eddine (also on percussion) were recorded at a studio near the famous Jemaa el-Fnaa square/marketplace in central Marrakech and the 11 minute opening title track is exactly the sort of trance music which can be heard in the evening there.
And throughout these 10 piece there have been woven in the voices and music of some of the many street performers there, some of whom just arrive for the evening then disappear back out of the city or into the warren of alleyways in the medina.
These voices add an additional layer of slightly unnerving spirituality (as on the echoed vocals and ululations on Sabaato Rijal).
An eight-year old girl girl's voice acts as a counterpoint introduction to that of an imam on the a cappella Spiritual Mawal/Light of the Stars; a family invited in to hear the girl's voice began spontaneously chanting the name of the Prophet -- peace be upon Him -- with trance percussion driving in behind a soaring soloist which was captured when the tapes kept rolling for the 10 minute Allah Hay (a kind of spontaneous field recording in the studio) and those who like the sound of desert blues (aka Sahara blues) willl enjoy Hassan Haddad adding that distinctive electric guitar style to Arrahmane/Spiritual Desert Voice from the Moroccan Sahara with the powerful vocals of Yemdeh Selem . . .
And so it goes.
Berber sounds, prayer songs in declamatory Arabic, calls to the faithful, raw vocals which may test the tolerance of those more inclined to gentle melodies . . .
With ARC Music's always informative liner notes (here by Damoussi) this is one which will conjure up the sound and atmosphere of Morocco if you have been there, or not.
Available from ARC Music here.