Graham Reid | | <1 min read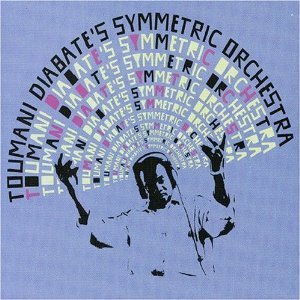 Copies of this uplifting album by Diabate from Mali come with an intelligent and interesting DVD-doco which shines a light on the culture of the griot -- a caste of hereditary musicians-cum-storytellers and counsellors to the influential -- and also explains that unusual band name: Diabate wanted to bring together the traditions of the griot (and the old instruments like balafon) with the contemporary world (of electric guitars and keyboards) and keep them in balance and harmony.
Symmetric.
For the past 10 years Diabate -- who plays the kora, a complex but hypnotic string instrument which sounds like a harp -- and his band have played at a club in Bamako and, as he says in the liner notes to this album, people at the club are free to enjoy the music without the obligations of tradition.
Which means we get invited in to this lovely music also, and aren't expected to know all about griot.
Part way between an orchestra, a dance band, a folk group and a jazz band, the Symmetric Orchestra make music which is warm and inviting, and always melodically interesting.