Graham Reid | | 1 min read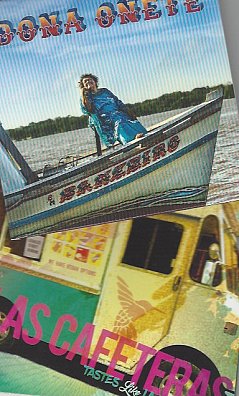 Every Womad introduces artist you'd never heard of but afterwards feel you couldn't live without, and artists you feel you should have known about.
In the latter category is the distinctive, tight and hard voice of the Amazon, 79-year old Dona Onete from Brazil who only recorded her first album six years ago but is considered the Queen of Carimbo (a lively dance).
She is a scholar of the various folk and traditional music of the region but has more recently taken this music around the world to considerable acclaim.
Her 2017 album Banzeiro (the word refers to the wake of a boat) is the ideal starting point – her most recent Rebujo hasn't yet been released outside Brazil – as it captures Onete's vocal vigour, her belting little band (augmented by horns) and this danceable music.
In her photos she always looks like she's thoroughly enjoying herself, and that always helps get across any language barrier.
Check this out
Faceira, by Dona Onete
More dance comes from Las Cafeteras out of LA who melt down Chicano folk and traditional songs with contemporary political comment and a dollop of hip-hop.
Their 2017 album (their most recent) of 2017 has tracks like Senor Presidente, If Was President (see clip below) and a cover of Woody Guthrie's This Land is Your Land in English which becomes a Spanish party after a slow and almost mournful opening chorus.
The six-piece has not been without its problems but as a political voice from East LA with something to say (in English and Spanish) they also aren't without humour, witness Vamos to the Beach on Tastes Like LA.
WOMAD New Zealand 2019 will see the festival celebrate its 15th anniversary in the stunning 55-acre Brooklands Park and the TSB Bowl of Brooklands, New Plymouth, 15-17 March 2019.
For further information and ticketing see the official Womad site here.