Graham Reid | | <1 min read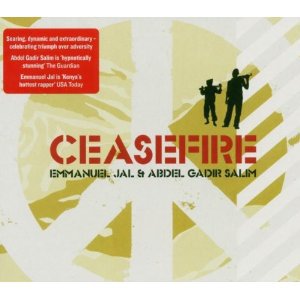 This charismatic meltdown of sounds from the Sudan (an area the size of Western Europe) involves softly-sung rap, a yearning for peace and freedom by these two vocalists who come from different areas and political sides of the divided country, traditional instruments such as nay (flute) along with saxophone and electric guitars, and is suffused in the suffering that years of civil war have wrought.
Jal from the predominantly Christian south was a boy soldier for five years before picking up on a kind of gospel rap, and Salim from the Muslim south was nearly killed by a fundamentalist who objected to him making secular music.
From such tough times comes this album which is seductive and gentle, and a fascinating story: in 1993 Jal -- who last year appeared at Live 8: Africa Calling -- was adopted by an English aid worker Emma McCune who smuggled him off to Nairobi, but she was killed a car accident a few months later.
Her friends paid for Jal's schooling, he took up music and had a hit single, and his story and that of McCune was told in the books Till The Sun Goes Cold and Emma's War, the latter being made into a movie by Ridley (Bladerunner, Gladiator) Scott.
Let's hope Ridley gets Jal to do the soundtrack, this is quietly persuasive stuff.