Graham Reid | | <1 min read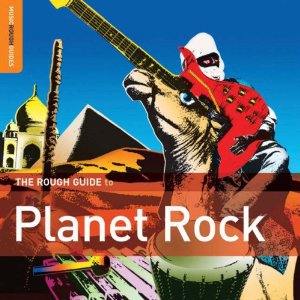 World Music compilations are often pretty dodgy affairs and this one is no exception.
So I'm not really suggesting you might want an album that starts in a place where Cambodia psychedelic rock meets America, then heads off to Algeria, the Sahara and Niger (the great Tinariwen and Etran Finatawa respectively however, see tags), the States for some Latino-Jewish hip-hop from New York then India, Portugal and various other global stop-offs.
It's too diverse, even though the common thread is rock (although Tinariwen and Etran Finatawa are more properly blues).
That said, there's the wonderful politically incorrect rap from the Latino-Jewish guys in Hip Hop Hoodios, Kike on the Mike.