Graham Reid | | <1 min read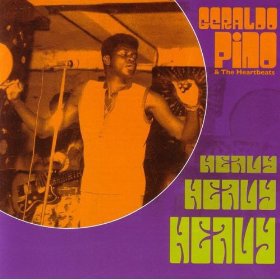 Some weeks ago I posted a track by the late and very great Fela Anikulapo Kuti from Nigeria who put James Brown funk, Black Power politics and African rhythms into the blender and created Afrobeat.
More fool me, but I'd always thought Fela was way out on his own doing this -- until now.
On the RetroAfrica reissue label comes this mid 60s album by Pino and his funky band the Heartbeats -- and I'll be damned if it doesn't sound like a slightly less urgent version of Fela's singular Afrobeat sound. And according to the liner notes Pino from Sierra Leone was a huge influence of the young Fela who is quoted at great length saying that seeing Pino in '66 changed his life.
With titles like Africans Must Unite, Power to the People and Born to be Free the man also had a political agenda -- although this album also includes Let's Have A Party and Afro Soco Soul. Check Fela through the tag so you can hear the connection yourself and Pino sounds like a funky and up-beat soundtrack to the summer which is coming.
I cleaned the barbecue the other day to the sound of this.
I was smiling.