Graham Reid | | 1 min read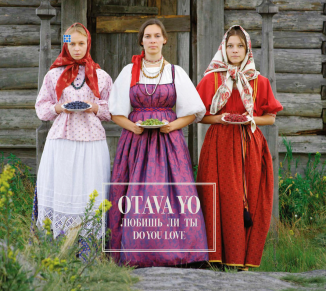 This may well be a first for Elsewhere, an album of traditional Russian folk music . . .
But wait, before you go . . .
The clip below has had over 27 millions view on YouTube and the song topped the World Music Network chart so . . .
Otava Yo are a six-piece collective from St Petersburg which includes film makers, so they know how to present an idea and a video (check their others here).
They've got a sense of humour.
Otava Yo – the name has something to do with that annoying grass which constantly grows back after cutting – also manage to turn traditional folk songs into dancefloor bangers and their live shows apparently rock the fields at festivals.
They aren't as austere as their album cover suggests (only the woman in the centre is actually in the band) and for ears far beyond the steppes the closest musical reference point might be some meltdown of Jewish gypsy klezmer and Irish folk.
It's different, incomprehensible to non-Russian speakers but somehow – by being folk I guess – has a familiarity which endears it to festival goers and those a few drinks down who are linking arms in the local boozer (check Brooms if you doubt it, or The Lord Once Gave Me Tea).
There are sensitive songs here too, as in the less bellicose Maidens Have Sown the Flax which sounds closer to Anglo-folk of the Amazing Blondel kind (with women singers).
We're not going to pretend this is an essential world music album, but if you only buy one Russian folk album this month . . .