Graham Reid | | <1 min read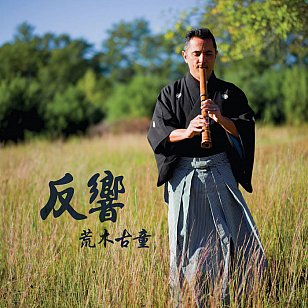 The background here does sound like an Irish story told in a pub over the fourth Guinness but . . .
Apparently Hanz Araki is an American who is highly regarded as a traditional Irish flute player.
So far so simple.
However as Araki Kodo VI he is a sixth generation master on the shakuhachi (Japanese flute) whose family have been players for centuries. And so the Hanz is an abbreviation of Hanzaburo, the name of his great-great grandfather and on these solo recordings he uses one his g-g-grandfather's handmade instruments passed on to him.
And the pandemic year allowed Araki the time and space to explore the instrument and tradition.
By coincidence 2021 is also the 250thanniversary of the death of Kurosawa Kinko (1710-1771) who founded the Kinko Ryu tradition.
So there is a lot of information and history here and while Elsewhere is in little position to judge whether these four pieces – three traditional with one composition by his father – cleave to the requirements of the lineage we can assuredly say that like other solo shakuhachi albums we've heard, there is a restful, meditative quality in the quiet and stillness the music and instrument evoke.
Certainly more relaxing that what Hanz might do on Irish flute, we might guess.
Rather lovely.
.
You can hear and buy this album at bandcamp here