Graham Reid | | 2 min read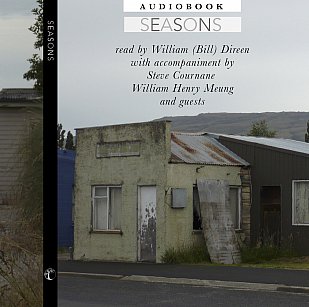 One of Elsewhere favourite writers is the American poet, essayist and translator Gary Snyder, who is still with us at 92.
Although sometimes considered a Beat Poet, Snyder always had a quieter and more reflective mind, much influenced by Buddhism and specifically the Zen poets and philosophers. He appeared as Japhy Ryder in Jack Kerouac's barely disguised autobiographical novel The Dharma Bums.
Unlike the headline-grabbers Kerouac, Allen Ginsberg, Herbert Huncke and William S Burroughs, Snyder spent time in isolation and deep consideration of za-Zen, translated Japanese Zen poets and tried to live in harmony with Nature.
His books and collections such as Riprap and Cold Mountain Poems, Regarding Wave, The Old Ways and Axe Handles are rarely too far from our reading.
Although New Zealand's poet, writer and musician William (Bill) Direen is sans-Zen rather than za-Zen, this collection of poems written over a year in a valley an hour out of Dunedin has a not dissimilar quality in his observations of Nature and himself in this situation, clear-eyed and not seduced by notions of romantic seclusion as he notes about his new home in the small town of fifty roofs.
.
Lacking its rear wall
the house makes an unintended loggia.
Starlings have strawed the attic.
Dust and cack cover the joists.
.
Direen is no recluse however, his pages pepper in encounters with neighbours, tradespeople and locals as become embedded in the small community.
.
A lean-hipped man knows the names of the rivers,
a nine-fingered woman, the hours of the shuttles.
In the hotel, they foam each other and rinse clear.
At the bus stop, one boards without a backward glance.
.
But out here it is the natural world which the subject, often its indifference as much as its beauty.
.
In the night, rain pelts the hills and valley.
The wells fill to overflowing.
Water rises from forgotten springs.
Heavy on the range, it does not cease.
Drains vomit into trenches dug
for a small cluster of houses.
Flood.
It mounts towards the floorboards.
It laps at my front door.
It loiters – and subsides.
.
Life can also be even more risky.
.
A dust cloud is rising from an unsealed road
another life 'in a hurry to die'
A driver somewhere is always leaving the road.
.
Death and the unexpected are ever-present.
.
The pecking of the flighted grows edgy;
the fight between wing and fang
was never more desperate.
.
The old world is still there although something called "progress" is inevitable
.
The stage is almost unchanged
A finch cuts from flax to hedge.
A sparrow hovers under the eaves.
The sky is blushing as if at its own theatricality.
But that the sportfield lights are operating.
This is progress.
Decades ago they trained
in the beam of truck headlamps. "Heave!"
.
And at the end . . .
.
Men who have only their cars to sleep in
are soon departing, and me.
I am soon departing.
.
These are poems of observes places, of shifts in the wind and changes of light, of simplicity but also sometimes reaching for the profound.
.
Stars free themselves from their constellations
and rearrange themselves in my sleeping mind,
where they obey no law of rock or sky.
Undiscovered they are anyone's guess,
dancing to the harmony of ages-perfected myth.
.
Seasons is available in a print edition directly from William Direen or various distributors here and each copy – $22 – comes with a unique download code for the bandcamp audiobook with the poems accompanied by music from Direen and other musicians.