Graham Reid | | 4 min read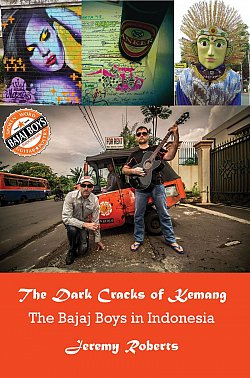 When Elsewhere previously wrote about Jeremy Roberts it was 2015, on the publication of his poetry collection Cards on the Table.
At that time the former Auckland poet/performer was back living and teaching in Jakarta.
We can say "back" because this thick memoir covers, in much detail and with digressions, his first year there in 2013.
Single again after the end of a 25-year marriage (no details given) and living with his teenage daughter in Auckland's Grey Lynn, he realises he needs to make a leap of faith: sell the house and "get outta Dodge" for . . .
That famous OE favoured by people half his age, teaching English at an international school somewhere in Asia, in his case Jakarta.
If nothing else it will be a change from reading his poems at the Thirsty Dog pub on K. Rd.
And so we find Roberts living the expat life in the area of Kemang of a little work (his class is tiny, the kids very young), a lot of partying, exotic women – a veil is drawn over some of this – and adventures in a city so vast as to be impenetrable.
He learns a few words of Indonesian, enough to get by politely, but often in these assiduously documented pages – verbatim conversations discreetly recorded on his Dictaphone – the local culture largely remains at a distance. Other than that of the many bars visited.
Those who haven't been to the humid parts of sprawling Asia may find this lifestyle decadent but in the heat beer is not just a social lubricant but necessary for re-hydration. And the enclosed ex-pat communities – the teachers mostly live together in a compound provided by the school – are often as inward-looking as Roberts portrays them. Characters in their own "Jakarta Gentleman's Club" club have nicknames: Creep, The Wreck, The Ringleader, Code Red . . .
"Being in Jakarta is like being in a witness-protection programme," he writes, "Except that it's your old life that you are protected from and no longer must constantly witness . . ."
And yet.
One thing we can never leave behind when we pack to travel is our memory and Roberts carries that overtly: his cultural tastes are those of a man of his generation who was educated in the Sixties and so his favoured poets (namechecked and quoted) are the Beats, Burroughs, Bukowski, Sam Hunt and so on. His music taste errs to the Doors (he considers Jim Morrison a poet), Iggy and the Stooges, the Clash and so on.
All of these provide touchstones for his life in Jakarta, never more so than after he meets another teaching expat and ardent leftist Derek Fraser from Manchester who, by good fortune, plays guitar and is willing to accompany Roberts when he reads his poems in small bars to even smaller audiences.
But the sheer pleasure they take in the enterprise despite it lack of financial reward or much appreciation initially is what drives much of this story.
Together they become the Bajaj Boys – named for the local three-wheeler motorised taxi – and the enormously prolific Roberts (who admits to having suffered from "reverse writer's block") writes about nearly everything he sees, hears and feels.
These pages are filled with his poems, some penetrating in their accumulation of images, others slight. But they add a necessary and different dimension to the recounting of bars, beer, attractive women who want not much more than to marry a foreigner, conversations and anecdotes.
Roberts is an unrepentant performer of his poems, he believes that poetry should be out there in the world as a living and breathing entity, not locked on the pages of some academic course. In that regard you read these pages with admiration for his enthusiasm.
But all too often a digression goes off into a story about Henry Rollins of Black Flag, Morrison, something one of those favoured poets said or did. These may be Roberts' rudder but you sense they may actually hold hm back from finding another self of his own in this mad, unfathomable city outside in the heat, dust, fumes and rat droppings which he describes so well.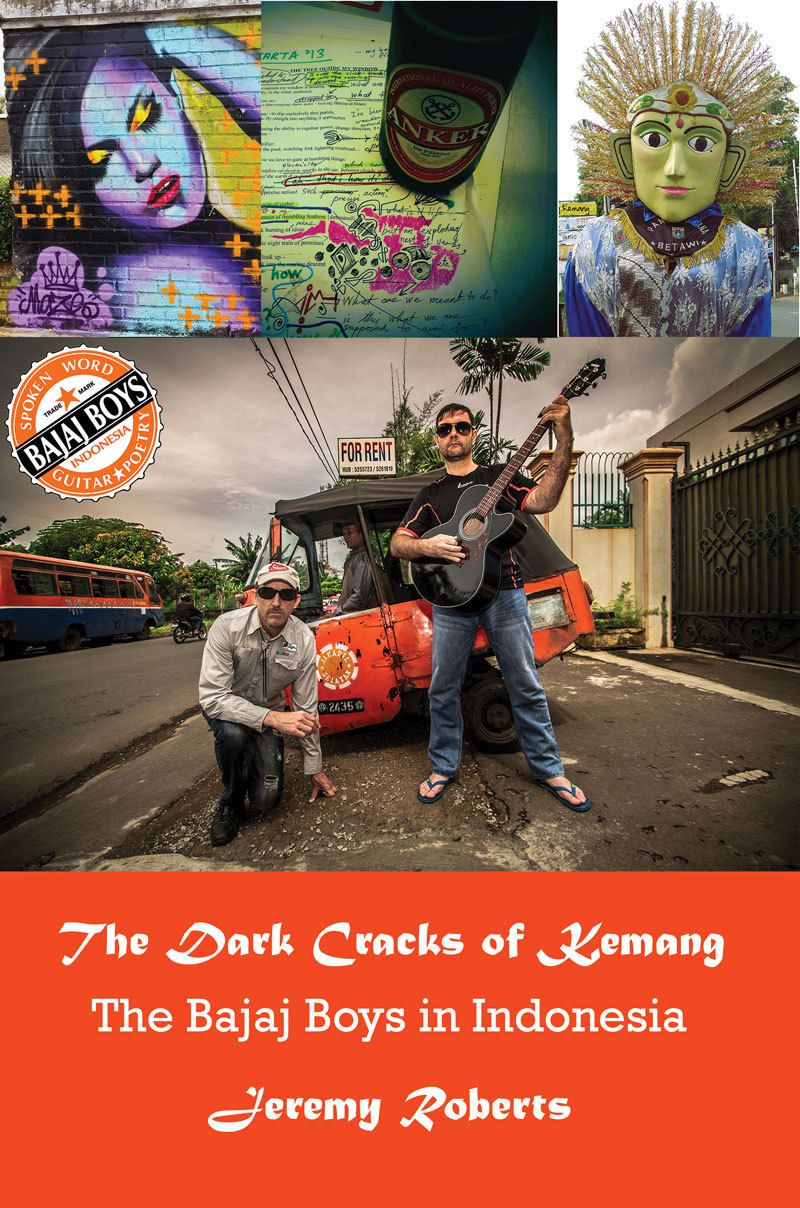 There are some fascinating digression here however: Rimbaud in Indonesia; a lengthy piece about the political murders and massacres of civilians in Bali, Java and Sumatra during the Sixties; some recollections of seeing great bands play . . .
There is also a fascinating third-person account of scenarios for heterosexual males foreigners in search of a relationship (or just sex) and what that might entail. There may be family protocols, demands for money, corruption (endemic, let's be honest) and regret.
The Baja Boys carry on, the small circle becomes slightly larger and more appreciative, Roberts keeps writing poems, turning on the Dictaphone, goes to bars but drinks less, tells stories that others have told him about an adventure or misadventure, pays lightning fast visits back to New Zealand, recording their gigs and then . . .
The inevitable.
Fraser decides to go home.
The Bajaj Boys are no more.
In the final pages Roberts too is returning to New Zealand but . .
"I'll stay here a while –
footloose, sun hot on my back,
slip down a crack!
My old life?
I don't wanna go back"
He didn't stay because two years later he was launching Cards on the Table in Jakarta.
These days Roberts – whose work is widely published in various creditable journals – lives in Napier-Ahuriri with his second wife Asiah and daughter Alia.
A witch predicted he would marry an Indonesian woman.
.
You can hear many of Roberts' and the Bajaj Boys' performances at soundcloud here.
.
THE DARK CRACKS OF KEMANG; THE BAJAJ BOYS IN INDONESIA by JEREMY ROBERTS, published by Interactive Press, Brisbane
You can buy Roberts' books at Interactive Press here