Graham Reid | | 7 min read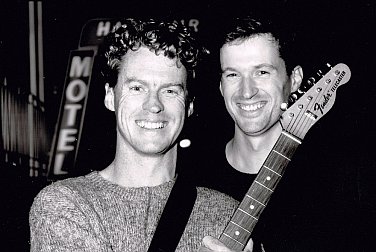 The Bloomsbury Academic imprint 33⅓ is an interesting and useful series of small format books in which specialist writers undertake the challenge of writing about a specific album.
Sometimes these take the form of a close focus on the record in question, at other times writers take a broad, wide and deep analysis of albums as emblematic of something in popular culture or the artists' career.
For the latter try Carl Wilson on Celine Dion's Let's Talk About Love where condescension, admiration and philosophical excavation produce something challenging and much that is illuminating (of Dion and the more hip world of the author).
The specific 33⅓ Oceania books look at albums from the part of the world – from Australia John Farnham's Whispering Jack, the Church's Starfish, Kylie's Kylie – and has so far offered two local titles, Ian Chapman on Space Waltz and now musician/educator and academic Matthew Bannister on Songs From the Front Lawn.
Forthcoming local subjects are Bic Runga's Drive and the Dead C's Clyma est mort.
Bannister – whose music pedigree includes Sneaky Feelings, Dribbling Darts of Love, the Changing Same and other bands, including time playing in the Mutton Birds with Don McGlashan who is half of the Front Lawn alongside Harry Sinclair – has a unique problem with Songs From the Front Lawn.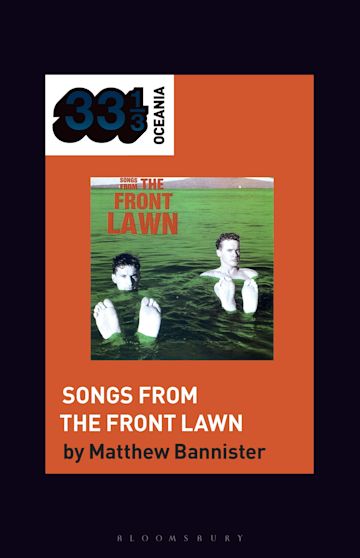 Where other books in the series can deal with the album as a stand-alone artifact, largely unencumbered by what went before or came after – Chapman's look at the sole Space Waltz album for example – Bannister has two artists with different previous careers and an album tethered to Front Lawn's parallel theatrical and film presentations.
A piece like How You Doing on the album requires some explanation of vernacular language, the Kiwi male's phatic communion, idiomatic phrases and how it was presented on stage.
Even the slight but familiar "yeah nah" ambiguous phrase and the lack of commitment contained in it opens up the idea that it "could suggest a culture in which agreement is more important than new ideas".
Bannister further suggests it may link to the tall-poppy syndrome which punishes non-conformity. And that's just two words: "yeah nah".
This – and other such extensions of thought – make Bannister's analysis something more than just a casual dig into song lyrics.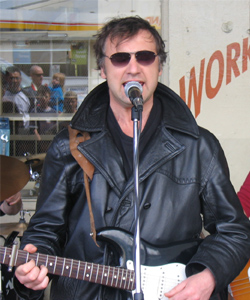 That's Bannister the academic at work (he's a post-grad advisor in Media Arts at WINTEC in Hamilton) and although it may in some places push the reader into areas surplus to requirements about the Front Lawn (see below), they are valid and interesting ideas in their own right.
And Front Lawn's intelligent listeners can take it.
In his useful and necessary background which opens the book – and is like a potted socio-political history of New Zealand in the last decades of the 20th century -- Bannister delves into what the country was like in the Eighties with an eye on the international reader with little understanding of the social, political and economic tides of the time.
After sketching in the racial tensions of the preceding decade (Nga Tamatoa, Polynesian Panthers, the '75 hikoi, Bastion Point then the '81 Springbok tour) he wryly notes after National's Muldoon lost the '84 election and Labour came in with Rogernomics "a conservative, right-wing, interventionist government was replaced by a liberal, left-wing, free-market government.
"Only in NZ . . ."
Although those just wanting to get under the skin of songs like Andy and Claude Rains on the album may sigh with frustration, this cultural background is essential in establishing the social climate in which The Front Lawn emerged, out of the post-punk era, the liberal arts and theatre, times of economic hardship and a sense of a culture discovering itself and our points of difference from the rest of the world.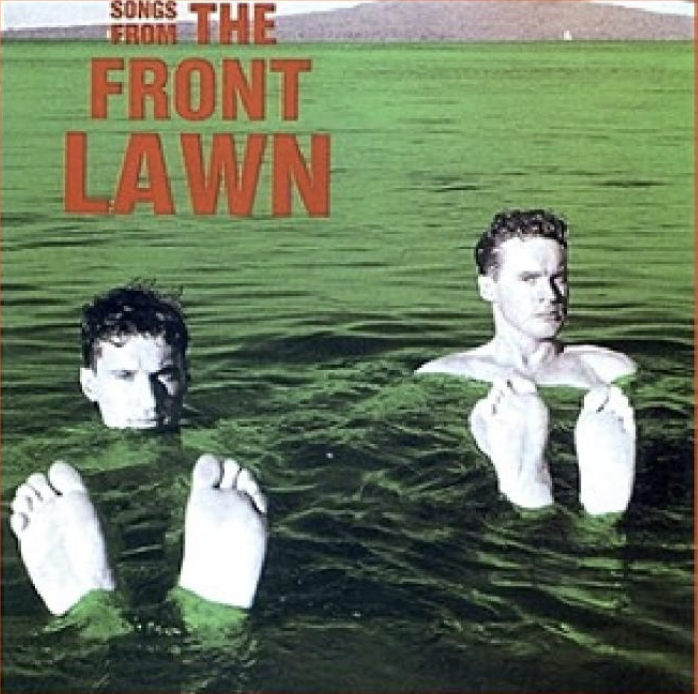 The Front Lawn's songs and skits reflected much of this and was certainly born from the confidence and self-assertion of the post-punk era of the Eighties.
The McGlashan/Sinclair album in question – with the group Six Volts and singer Jennifer Ward-Lealand – arrived in 1989 and was modestly successful but critically acclaimed.
To place it in context Bannister, quite rightly, explores McGlashan' pre-FL career (notably with Blam Blam Blam but also his work in From Scratch and percussion which plays into some of the album tracks) and Sinclair's family background (his father historian Sir Keith Sinclair, brother the writer Stephen) and theatrical work.
There were big brains brought to bear in The Front Lawn and through archival and recent interviews with Sinclair and McGlashan, Bannister reveals the layers of meaning and motivations behind songs like the seemingly simple When You Come Back Home with its "Maori strum".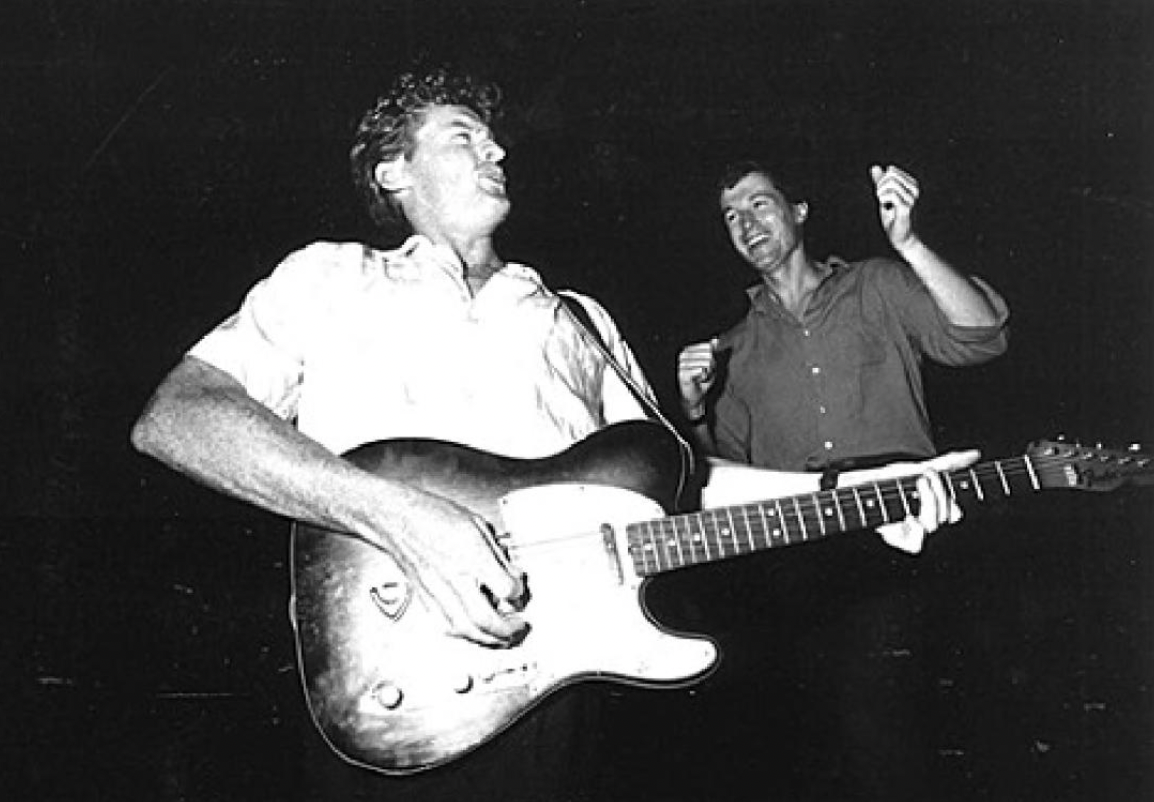 Bannister also brings his big brain/academic training to analysis of the songs linking them to the local "cultural cringe", Kiwi Gothic tropes in song and film, aspects of masculinity and domesticity, intertextuality in Front Lawn songs and films, the reluctance of New Zealand musicians to make local references (painters and poets had been doing it for decades) and personal events in the lives of Sinclair and McGlashan – notably on Andy about McGlashan's deceased brother which also addresses obliquely the changes wrought on Auckland by property developers.
Interestingly McGlashan is quoted as saying, "the world's full of people – especially artists – who feel they don't belong anywhere, and want to fill the airways, book and record stores with that sentiment.
"We could easily be part of that . . . but it's better not to be."
Digressions into the films like Walkshort, Lounge Bar (the latter with some clever intertextuality which Bannister teases out) and Linda's Body, tours at home and abroad and the subsequent album More Songs From The Front Lawn flesh out the context of the album Bannister is analysing.
All of this is penetrating, thoughtful and enlightening.
Not everything however is persuasive: Bannister perhaps overstates the influence of Paul Simon's Graceland in Six Volt's music (McGlashan mentions musical connections from the folk and Irish music of Paul Brady, Andy Irvine and others he'd been listening to in New York) and although the Wellington group were influential in shaping the sound of the album, nothing is said about the early Eighties Auckland's collective around composer Ivan Zagni (with whom McGlashan worked and recorded).
Love Song by Ivan Zagni and Don McGlashan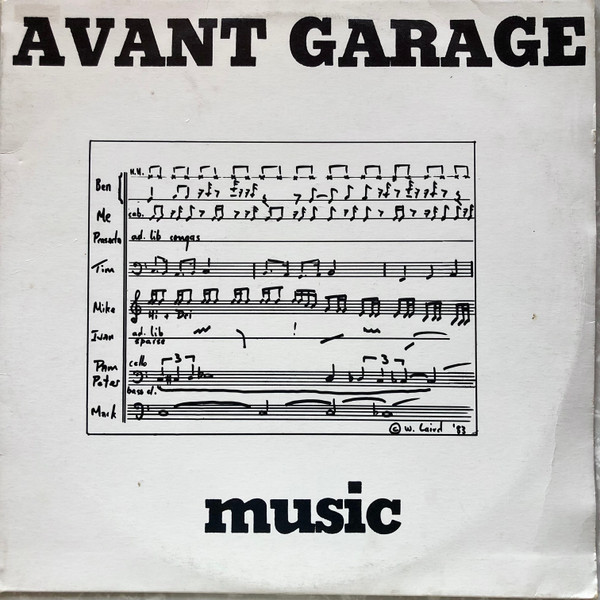 In that collective the group Avant Garage recorded – among other innovative pieces – Garage Sale by Peter Scholes which anticipated the Front Lawn approach to the mundane: the character yawns awake, reads garage sale notices from the newspaper in a flattened Kiwi voice and then it's "let's go to the garage sale".
Garage Sale by Avant Garage
Avant Garage also included former Blam Blam Blam member Tim Mahon and pieces like Mr Granite (by Zagni and Richard Von Sturmer, who wrote the lyrics of the Blam's No Depression) would seem to have clear but unexplored connections with the Front Lawn.
In his chapter on Theme From 'The Lounge Bar', Bannister embarks on a digression into semiotics, cathexis, Freud's thoughts on melancholia (which are open to dispute), Slovenian cultural theorist Slavok Zizek's interpretation of Freud and more.
You sense maybe this chapter and perhaps even the book is going to be submitted as part of another academic paper.
"We weren't cool in the music world," says Sinclair in Bannister's conclusion, "because we were funny."
Sometimes that fun – the satire, humour and irony – here bends under the weight of intellectual analysis.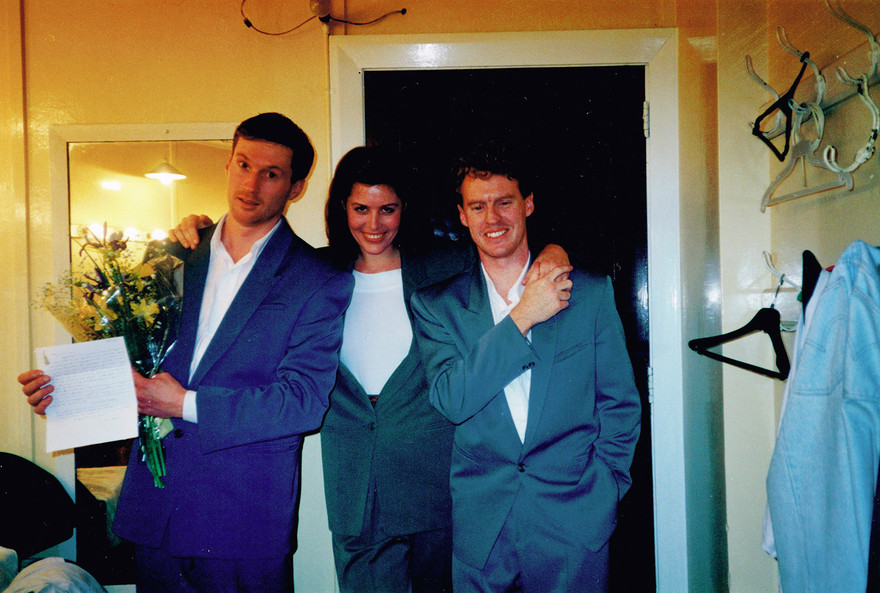 And as is common – Chapman in his Space Waltz book exaggerated this – there is the Us Vs Them schism of cultural stereotypes.
On the one side "the Kiwi bloke, the tough, laconic, usually rural DIY type, the rugby, racing and beer stereotype reinforced by the Springbok tour protests". On the other the Front Lawn which "celebrated what it was like to be a bloke in NZ in an intelligent and nice manner", says Bannister quoting Margi Melsop, then of the NZ Comedy Trust, in Matt Elliott's '97 book Kiwi Jokers: The Rise and Rise of NZ Comedy.
Just as a barista will tell you there was no decent coffee in the country until they came along, it seems every generation will fight the same Us Vs Them war, sometimes by erecting familiar shibboleths.
Chapman writing about glam Space Waltz the Seventies, Bannister quoting Sinclair/McGlashan approvingly about the Eighties . . . Longhairs from the Sixties equally staking their claim as being in the vanguard of that confronting divide, often exaggerated in hindsight.
But these are minor quibbles about a very serious book (about a pretty witty duo, it needs to be said) which drills deep into not just an album of 10 songs but the people and culture it sprung from.
Matthew Bannister has made a number of written contributions to intelligent discussions about New Zealand popular music – beyond also making much of his own music – and Songs From The Front Lawn is deserving a place on any serious bookcase dedicated to New Zealand music.
It is thoughtful, analytical, provocative and a mostly enjoyable insight into one of our landmark groups who changed the musical and intellectual landscape, spoke to us in our own vernacular and left us wiser . . . and laughing at ourselves.
SONGS FROM THE FRONT LAWN by MATTHEW BANNISTER 33⅓ Oceania $22.50
.