Graham Reid | | 1 min read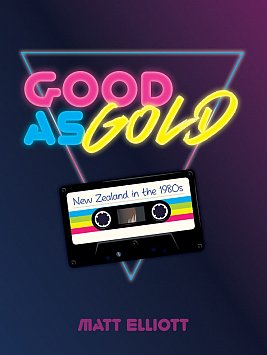 So, if you were there, what was the Eighties to you?
Springbok Tour, Queen Street Riot, the Rainbow Warrior bombing, Lange and Douglas?
Or Flying Nun, indie rock, the rise of breakdancing and hip-hop? And Poi E?
Maybe you were caught up in the adrenalin rush of the stockmarket with the Chase Corporation and Equiticorp, bought up shares and borrowed to do so, long lunches and living the high life until that day in '87 when you woke up and the market had crashed and you weren't just broke but were in serious debt and the house was going on the market?
The Te Maori exhibition, Peter Jackson's Bad Taste, When the Cats Away, Funny Business, Loyal . . .
True Colours, Beauty and the Beast, Amco Jeans, Penny Whiting and Peter Blake, the microwave oven, Lance Cairns . . .
The Eighties was as messy a decade as any other and only a historian or someone with too much time on their hands would try to find a shape within it.
Matt Elliott for his softcover, coffee-table, thoroughly illustrated 190 page book Good As Gold is smart enough to just throw all the images out there which will provoke and evoke, and just walk us through the years with pictures of McPhail and Gadsby, sports and leisurewear, Rip It Up, video games, The Bone People, BillT James, San Bran, the Rugby World Cup, . . .
Here too is the international impact from sport, Bowie, Dire Straits, Toshiba cassette players, Ray Bans . . .
From Miss Universe to murders, the Rubik Cube to An Unfortunate Experiment at National Women's, this page-flick book will trigger memories. Some fun ones and some not so much.
Alison Holst and Ladies Night were really popular, huh?
.
GOOD AS GOLD; NEW ZEALAND IN THE 1980s by MATT ELLIOTT Bateman Books $50