Graham Reid | | 3 min read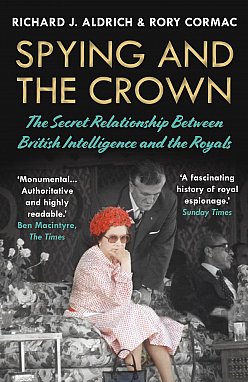 Anyone who believes the fairy-story that the British monarchy stands apart from politics is advised to skim the contents of this page-turner subtitled "The Secret Relationship Between British Intelligence and the Royals".
It covers considerable and often racy ground from the first Elizabeth to the most recent one through various monarchs and, just as importantly their satellite spies: aunts, uncles and cousins etc who were married into a panoply of obscure kingdoms and principalities across Europe and into Russia.
For many decades these people (and those they whispered to) kept the British royal family abreast of the great political movements in Europe and beyond.
Some were more reliable than others and loyalties could shift but, as the authors note, in the years before World War I being a royal came with considerable risk, no matter how well informed and protected they might be.
When George, Duke of York visited Spain in 1906 with his wife for the wedding of the king (who was marrying a British cousin), an anarchist threw a bomb disguised as a bouquet of flowers. It killed 20 and left the bride and groom – who survived – covered in blood.
The wedding went ahead.
The year before the King of Spain had been almost killed in a similar attack, the King of Portugal and his son were assassinated two years later, Russian royals had been attacked (the Tsar's uncle killed) and everywhere there were anarchists, socialist rebels, Irish republicans, the Indian independence movement . . .
Most if not all of these groups had royalty in their sights.
So information collected by spies and informants was essential and over time codified into MI5 and MI6. And other more invisible networks. The monarchy was involved, informed and often active.
Fortunately in the early years many of those with murder on their minds and agendas were woefully inept: Fenians would arrive late for the appointed killing, anarchists would blow themselves up with their own bomb before they got close to their targets, other attempts were thwarted by chance or good luck.
The authors note that the assassination of Arch Duke Franz Ferdinand -- which kick-started World War I because of the complex treaties between nations -- was because they went on a foolhardy visit to Sarajevo on Serbian national day when the place was a hotbed of assassins and radicals.
They were in an open car which drove down a street known as Assassins Alley when – again by chance – one of the potential killers just happened to be there and took his chance. He was a member of the Black Hand which had been involved in the murder of King Alexander of Serbia and his wife.
And so the British monarchy – slowly and informally at first – developed networks of spies and informants, many of them closely associated with the governments of the day. So the royals were not just privy to political information (often more so than their prime ministers and the cabinet) but also used it to manipulate governments and alliances.
On these pages we have other myths dispelled: the legendary story of Rasputin eating poisoned cakes but surviving then being shot by Prince Yusupov and his body dumped is found to be a fiction.
Two MI6 officers stationed in St Petersburg were closely involved, perhaps even firing the fatal shots although the swaggering and arrogant Yusupov was very happy to take the credit.
From the Gunpowder Plot – the powder kegs only discovered by chance – through the den of spies around Kim Philby, the despicable and disgraced Duke and Duchess of Windsor, the Profumo Affair, the Cold War and the overthrow of the Shah of Iran to the death of Diana, British royalty at home and abroad knew more than it ever let on in public, and certainly had its say about events.
Albeit in whispers.
The authors know what they are talking about too: Aldrich is a Professor of International Security at the University of Warwick who has written for The Times, Guardian and Daily Telegraph; Cormac is a Professor of International Relations specialising in Secret Intelligence and Covert Action at the University of Nottingham.
There is spycraft here but also remarkable characters and stories.
When Elizabeth II blithely commented she was surprised someone hadn't found a way of putting something in the coffee of the meddlesome uncle of King Hussein of Jordan, it worried some in the intelligence community close to her.
It might have been a quip, but Henry II's comment "will no one rid me of this troublesome priest" lead to the murder of Thomas Becket, the Archbishop of Canterbury.
A royal wish could easily be interpreted – and sometimes was – as a command.
Helluva book: the 2021 Times and Sunday Times best book, Daily Mail's book of the year too.
Who knew that Camilla Parker Bowles (then having an affair with Prince Charles) lived opposite army officer James Hewitt (then having an affair with Diana, Charles' wife). And that Camilla liked doing the housework in the nude.

One day she was seen in all her naked glory by Hewitt. Her husband at the time was Hewitt's commanding officer.
Oh, and the PLO offices were right next door.
Those madcap but sometimes dangerous Brits, huh?
.
SPYING AND THE CROWN by RICHARD J ALDRICH and RORY CORMAC. Atlantic Books, London $33