Graham Reid | | 1 min read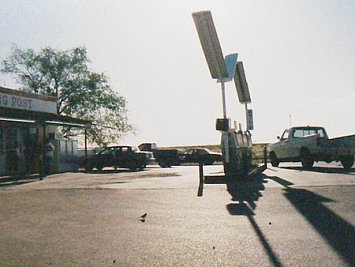 This dark and depressing novel is an impressive debut by Vlautin, the frontman and songwriter for the American alt.country band Richmond Fontaine whose music is, unfortunately, little known here.
The band's melancholy album The Fitzgerald was a result of Vlautin living in the rundown Reno casino of that name and is peopled by marginal, stale cigarette characters who live whisky-soaked lives on the margins of society and hang around the less glitzy areas of such desert towns. It is shot through with Waitsean stories and characters sketched in with specific, telling detail.
An album of late night moods, delivered over strummed guitar and piano, peopled by those broken by the burdens of life and love, and set in an emotionally empty landscape of cinematic dimensions. And songs such as Exit 194B, about a house of memories, are heartbreaking.
This novel possesses the same quality, but this story of rootlessness and failure in a cold, sleet-blown landscape is much more violent. Imagine the Cohn Brothers' Fargo without the humour, and soaked in codeine, beer and bad luck.
This is no country for young or old men.
At the centre is Frank Flannigan, a gifted storyteller whose tales of misadventure and dreams which have died on him punctuate the narrative. His brother Jerry Lee in the opening pages accidentally runs over and kills a boy on a bicycle in the early hours of an icy Reno morning.
Together, for want of a better plan, they dump the body and take flight, moving from one sad Mid-West town and cheap motel to another.
As they do Frank fills in their tragic background as life's losers, and a cast of equally lost characters walk through their lives. A grim fatalism soaks the pages.
Told in an emotionally flat and deadpan manner, this is not an easy read. But its evocative, lean prose and a story arc that keeps unfolding more biographical detail (which allows the reader a measure of forgiveness for the brothers) cuts deep into the lives of its protagonists who are both pitiful, and to be pitied.
Writing this stark and powerful makes you think Vlautin should give up the night job.