Graham Reid | | 5 min read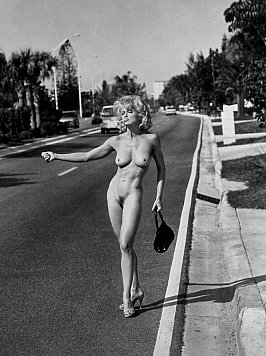 Two years before she had a hit record, Madonna told her friend Erica Bell: "I don't just need attention. I need all the attention. I want everybody in the world to know who I am and to love me."
And the game plan for Madonna Ciccone – an all American cheerleader with an IQ of 140 – was to "travel through people", to use them to fulfil her own needs then discard them as quickly and as often as she does her images and clothes.
Not for nothing was one of her tours named "Blond Ambition."
If there is a real Madonna behind the chameleon-like image manufacturing it is revealed in the extraordinary biography of the superstar, Madonna Unauthorised by Christopher Andersen, a former contributing editor of Time and senior editor of People magazine.
Through hundreds of interviews with friends and ex-lovers Andersen shows Madonna to be sexually voracious, manipulative, exploitive, completely self centred ("everybody is entitled to my opinion." she shouts to a stage crew member) and a genius at self-publicity. She is "personality as art."
"Society expects stars to pay a price," says Andersen from his Connecticut home, "but Madonna is saying she doesn't have to pay the price because personal relationship and family or whatever simply do not matter to her.
"I met a lot of hurt and bewildered people who were willing to talk because they had finally realised she was out of their lives. Most would say they weren't mad at her, they just missed her.
"That also had to do with her omnipresence in the States – you can't escape her. Her songs are constantly played – even muzak versions – and she's referred to on television series or when people are debating presidential politics. For people who've actually known her that's a psychological burden. They are constantly reminded of her and can't escape."
How Madonna came to such pre-eminence in popular culture after arriving in New York in mid-1978 as a 19-year old with $37 in her pocket is traced by Andersen in an ascending arc of emotional and sexual manipulation.
By moving through the world of dance she acquired the skills of choreography she could later use in her lavish stage productions. Her instinctive love affair with a camera as a model allowed her to experiment with various roles and guises before she became famous. Later Life magazine would hit the target spot-on with the headline "That Fabulous Couple, Madonna and the Camera."
But it was a long crawl to fame – as a dance student, she relied on soon-to-be discarded friends for handouts and rummaged through rubbish bins for food. She played bit parts in cheap movies and videos, often stealing the scenes and pushing herself to the front. By the time her single Everybody was moving up the dance charts she had schooled herself in dance, music, video and film, choreography and – most important – honed a business sense.
That is the part of her life which she scrupulously hides today, says Anderson who did not interview Madonna but was seemingly allowed nine months' grace to gather information before the star told friends not to speak with him.
"The fact that she is an astute business woman with one of the great modern art collections and calculates everything to stay in the public eye is something she doesn't like revealed. It runs contrary to her image and she has cast herself as a rebel.
"She doesn't highlight that she was the ideal devoted daughter or a cheerleader. She doesn't want to confuse her following."
Yet her following has largely accepted Madonna in any number of roles from tramp/whore to Marilyn Monroe. For feminists she presents ambiguous messages and draws ambivalent responses. She can appear as woman enchained in an video but argues that because it has been her choice she has empowered herself so is not a victim.
"It's a curious and convoluted logic," says Andersen, "but she has always said power is the ultimate aphrodisiac. She is also saying you can be sexy and a feminist."
What has ensured Madonna's continued high profile is her uncanny ability to be controversial to "push people's buttons" as she says. And that wasn't difficult in the new conservatism of American in the '80s.
Her videos were banned. Justify My Love , banned by MTV was rushed on to the market and earned Madonna $US2.5 million from sales of the five minute $US9.95 clip. She created stage shows which mixed religious and sexual imagery was outspoken about Aids, condom use, gay culture, bisexuality and ex-lovers.
Andersen admits he was surprised to hear that off-stage the star lived up to her reputation of insatiable sexuality. Cruising the Lower East Side of New York in a limo with blacked out windows she would indulge in her variant of the boys' game "cruising for chicks," by picking up Puerto Rican boys off the street for some quick backseat sex in the car stocked with condoms.
"When she spotted some good-looking boy," said her friend Erica Bell, "she'd order the driver to stop the car, roll down the window and call out, 'hey cutie, want a ride?'
"They always obliged. The boys were really young, the way she likes them. If she really liked a kid, she'd just rip off his clothes and do whatever she wanted with him while we drove around New York.
"Sometimes we would end up driving around with two or three guys at a time."
Outrageous behaviour came easily for Madonna, almost the easy option.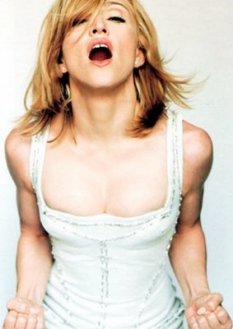 At Cannes where her Truth or Dare film was screened at a midnight out-of-competition showing which caused a minor riot, she cast off her demure floor-length red satin cape to reveal nothing but underwear. It was the Maidenform bra ad come to life and ensured more front page pictures.
Andersen give examples of such flamboyant publicity events but recognises that his book, too, is part of the vicarious Madonna machinery.
At present she is not doing much, he says, so it suits her that his book – which he has heard from the Madonna camp she enjoys – sits at the top of the best seller lists.
But while Madonna insists she enjoys "pushing people's buttons," Andersen reveals the hurt this causes.
In the Los Angeles gay magazine, The Advocate she revealed that her brother Christopher was homosexual. This disclosure forced her father to confront the situation. Christopher was bitter and hurt, as was her father when he saw Madonna shamelessly exploiting an incident at her mother's grave for the film Truth or Dare.
Yet, Madonna seems to care little of the reactions of others if Andersen's book is to be believed. She did, however, keep a small flame burning for husband Sean Penn despite his violent outbursts which saw her tied to a chair and beaten for hours. But that, too, has passed.
"Feeling regret is really destructive," she says. "I have learned a great deal from my marriage, so much. About everything – mostly myself."
For Madonna the present only exists to be move through. The challenge is to stay one step ahead.
And Andersen found her to be a more complex character than he first thought.
"She is capable of operating on more than one level which is reflected in her art. Themes of bisexuality and abortion have cropped up in her records yet she's made them into commercial hits. I respect her more now than when I first started, she's a quick study on things, very intelligent and honest about her willingness to use people."
Her stage is the world now, she is the epitome of pop culture on a global scale.
Anderson notes with amusement the fascination the world has with Madonna whom he says, "will always be a pop icon, the public will neve lose interest in her."
His book rights have been sold in 20 countries.
"They've even bought it in Russia," he says with a wry laugh. "I mean these people can't even find a potato and they've brought 200.000 copies of a book about Madonna. What can you say?"