Graham Reid | | 4 min read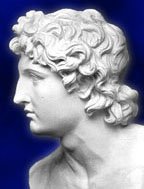 You know how it is, you see Charlton Heston parting the Red Sea and you think, "Man, I should read that book. It looks kinda neat."
Or you watch Michael Jackson: The E! Hollywood True Story and decide you'd love to read a biography of that troubled and troublesome soul.
Right now there is a glut of bio-flicks in cinemas which, by the very constraints of film, sometimes barely get beneath the surface of their subjects. That's where the biographies come in.
While you may have laughed -- or snoozed -- your way through Oliver Stone's sprawling and appalling Alexander epic you know there's a good story in there about this upstart who started conquering and just couldn't stop.
There are any number of heavyweight tomes about Alexander -- Peter Green's Alexander of Macedon is sound on the historical background and his genius as a military strategist -- but if you want a quick, picturesque read which covers the ground but doesn't bog you down then you could do worse than Alexander The Conqueror by Laura Foreman.
This large format, 200-page hardback comes with 250 full colour illustrations and photographs, many of which illustrate how artists through the ages have portrayed the heroism of Alexander.
Foreman starts the story with Alex's father, Philip of Macedon, and his mother Olympias, a princess of the Molossian dynasty and a priestess of Dionysus who was the god of ecstasy and mystical transcendence. Dionysian worship involved trance-like possession and it is said that in such a state Olympia was impregnated by Zeus.
Foreman spots in the political scheming and arranged marriages which were common practice for conquering kings, then embarks on a straight but informative account of Alexander's life without shying away from his homosexuality and possible bisexuality. Whatever, he seemed to love his horse Bucephalas more than he did most people.
With insert sections on the Iliad (which Alex read avidly), the Macedonian army, the oracle at Delphi, the Gordian Knot and other matters which shaped or influenced Alexander's short but dramatic life this will get you through the pub-quiz.
It's a little short on detailed maps but the glossy pictures and attention to small biographical details will carry you through where Oliver Stone let you down.
Steve Spielberg and Leonardo Di Caprio have done a fine job on the young Howard Hughes in The Aviator, but the man lived a long, bizarre and reclusive life beyond what the film investigates.
There are almost as many books about Crazy Howard as there are about Fat Elvis but here's a tip, avoid any with "his secret life" in the title.
Empire: The Life, Legend and Madness of Howard Hughes by Donald Bartlett and James Steele covers all aspects of his life adequately -- from young playboy, investor, Hollywood major player, inventor, businessman, to fruit-loop who collected his own urine -- and Michael Droslin's Citizen Hughes is widely considered an excellent insight into the man, the myth, the money and the madness.
If you want a real odd Hughes trip however locate Clifford Irving's Hoax. Irving claimed he had interviewed the reclusive Hughes by phone and magazine editors bought his story. Hoax is the book of the famous scam.
Ray Charles has been well served on screen by Jamie Foxx. If you want to know more you should read Brother Ray which is Charles' own story as told to respected music writer David Ritz (who also wrote the Marvin Gaye bio Divided Soul).
Ray lived another 25 years after this book was first published but as a raw, candid and often moving autobiography told in Ray's own voice it is impossible to go past. However a new edition of Michael Lydon's Ray Charles: Man and Music (first published in the mid 90s) brings the story up to date. Lydon -- a founder editor of Rolling Stone -- doesn't pull his punches and the book was criticised for being a bit rough on the genius of soul. But Charles hardly spared himself in Brother Ray.
Liam Neeson makes a good Alfred Kinsey but only the most dedicated might want to seek out the first famous 1948 "report". Anyway it's the man not the methodology you want to know about.
James Jones' scrupulously researched, acclaimed and controversial biography Alfred C. Kinsey: A Public/Private Life is the one. Kinsey is portrayed as the homosexual, voyeur, masochist, scientist, and social revolutionary that he was. As the Kirkus Review noted in 97 on the book's publication, Jones "describes the scientist's life in the kind of microscopic detail that would have pleased the man who began his career as an entomologist".
And finally let's get away from Kinsey's sex life to answer that age-old question: why must we keep flinging this filth at our children?
Well, we don't have to. We can -- as J.M. Barrie did -- provide them with a Neverland where they need not grow up.
With Johnny Depp's Finding Neverland being acclaimed for its gentle sensibilities the excellent 79 Barrie biography J.M. Barrie and the Lost Boys by Andrew Birkin has been republished.
Birkin researched and wrote it when he was producing a BBC series The Lost Boys about Barrie and the Llewelyn Davies family who were the inspiration for Peter Pan.
It is a sad and even tragic story: Michael Llewelyn Davies drowned at 17 and Barrie was distraught for the rest of his life; the boys Jack and Peter became increasingly estranged from the obsessive Barrie, and their childhood nanny fought him for the boys' affections.
There are also some disturbing sexual undercurrents of the kind Finding Neverland was never going to explore.
Those things might have happened in that other Neverland, the real-world one where a grown man who thinks he's Peter Pan took in many lost boys.
But that's another book, another E! Hollywood True Story, and maybe one day a very interesting bio-flick.