Graham Reid | | 1 min read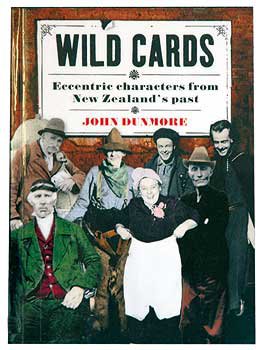 Subtitled "eccentric characters from New Zealand's past" this collection of short biographical articles by Dunmore -- Professor Emeritus of French at Massey, Companion of the New Zealand Order of Merit in 2001 -- is considerably more insightful than it looks.
To his more than two dozen, diverse subjects -- from ambitious or oddball early settlers through to the singular MP Mabel Howard (1894-1972) -- Dunmore brings a light and economic literary touch, an astute and bemused approach to their foibles, and a turn of phrase which illuminates personality or the period.
He also doesn't shy away from Katherine Mansfield who has been elevated into the literary pantheon but conforms to the description "eccentric" as Dunmore uses it in the original meaning of "ex-centre", out of the crowd.
There are familiar names: the sheep stealer James Mackenzie; castle-building William Larnach; the poetically gifted Geoffrey de Montalk who grew up in Remuera believing he was Polish royalty; the sartorial and social misfit Rex Fairburn . . .
But here too are the Shakespeare-quoting hermit Maori Bill (William Thompson) on the West Coast; the nomadic Russian Jack (Latvian in fact) who stuffed paper wads soaked in mutton fat into his ears to protect them against the cold; and the kleptomaniac Amy Bock whose past kept catching up with her so she dressed as man and, in her late 40s, married (albeit very briefly).
Then there is Charles de Thierry who in 1820 purchased "all the land from North Cape to Tauranga". Aside from the obvious problem there was also the inconvenience: Thierry was in England, had never seen New Zealand and knew little about it, and had no money to get here to settle his property, the size of which he was equally uncertain about. His remarkable journey is a salute to the human spirit and stupidity in equal measure.
Dunmore sympathetically tells these stories in a wry style: he notes the public admiration for thieves like Robin Hood, Dick Turpin, Ronald Biggs and the local entries George Wilder and Mackenzie, so "when one thinks about it, it may not have been too difficult to get the Jerusalem mob to shout for Barabbas' release in the place of Jesus: human nature being what it is, the tendency to favour a thief over a prophet is only to be expected".
Let's hope Dunmore will bring more such characters to light in the same amusing, readable and informative manner he has done here.