Graham Reid | | 1 min read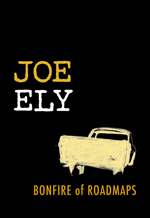 Joe Ely who grew up in Lubbock, West Texas (Buddy Holly's hometown) is something of a legend in Americana/alt.country rock: he was on the road in the early 70s hitching around to play gigs far and wide but also formed the formidable band the Flatlanders with Butch Hancock and Jimmie Dale Gilmore (both of whom have gone on to remarkable careers in the own right); and his hard rockin' attitude appealed to the Clash who had him open for them.
His late 70s albums like Honky Tonk Masquerade and Down on the Drag announced him as an observant rock'n'roll country-flavoured poet, and the exceptional Live Shots (1980) confirmed him as an edgy live act (with nods to Little Richard as much as Johnny Cash).
With elements of Tex-Mex also in the mix and his literate lyrics, Ely is one of the most important American singer-songwriters oif the past three decades who has performed with Springsteen, John Hiatt, Guy Clark and sometimes again with the Flatlanders. His decade-summing live albums are terrific: His Live at Antones of 2000 is an Essential Elsewhere album.
But the man is also a poet in the most pure sense and this collection of on-the-road snippets, reminiscences, observations and concise anecdotes is something quite extraordinary: they cover tours from as far back as 1972 and as an insight into the touring life it is compelling. It ain't pretty.
Pulled together from lines scribbled on napkins and notebooks, envelopes and grocery bags, they hang together because -- as with Ginsberg, Kerouac, Lawrence Ferlinghetti and the other Beats -- he offers snapshot images you can't forget.
There is the loneliness of the road here, but also the camaraderie and wry humour, the chance encounters with old friends (Springsteen, Bon Jovi) backstage or in immigration halls, the spaces of the open road and the claustrophobia of hotel rooms in England and Europe. Self-doubt, indifferent audiences, bad motels, beautiful sunsets, random violence and love of various kinds, old folks and young kids . . .
One of the pieces, written on a laptop on the half-dark is reprinted with its spelling mistakes intact ("mistruck keys that became part of the song's personality", he explains).
Against the present (shows, politics, death) there is also the past imprinting itself and memories, deja-vu experiences and lost moments are here too. The book also comes with a CD of Ely reading some parts of these poems.
He's a rare one.
In his afterword Ely explains the book and its purpose.
"Future bards might not be required to travel in the physical world. They may cross borders wirelessly in the virtual domain and navigate oceans with the roll of an eye. But there will always be those who want to venture beyond the horizon just to see what is there . . .
"To those, I hope these accounts will give a glint of inspiration . . ."