Graham Reid | | 2 min read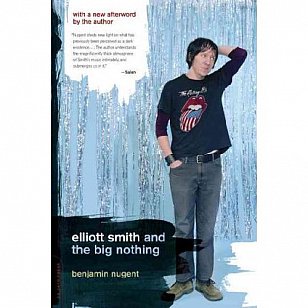 When American singer-songwriter Smith was found dead in October 2003 at age 34 it hardly came as a surprise to many of his small but loyal following. Smith's lyrics had been suffused in gloom, and his depressive personality combined with intermittent drug addictions made his early demise seem all but inevitable.
What did surprise however was the manner of his death: he was apparently discovered by his girlfriend with two stab wounds to the chest from a kitchen knife, wounds from which he died an hour later in hospital.
There were immediate suspicions that this might not have been a self-inflicted death, and rumours further gained momentum when the coroner noted that there had been the absence of hesitation wounds (stabbing suicides typically make a trial cut or two), that Smith was stabbed through his clothing which was unusual in such cases, and that his girlfriend initially refused to speak to police.
It was also said, and his girlfriend confirmed it, that in the days leading up to his death Smith was cleaning himself up and talking about getting married and having kids.
Set against that however was that Smith had lived a needy, dependent life which had been punctuated with severe bouts of depression, threats of suicide, and heroin addiction.
Smith -- best known for his Oscar-nominated single Miss Misery on the Good Will Hunting soundtrack in 98 -- was a complex character and, if this flawed but nonetheless interesting biography is to be believed, somewhat of a pain to be around. In that regard, he was the Gram Parsons of gloom.
When he first embarked on a song writing career he repeatedly wrote and spoke of using heroin (he didn't at the time) which had supportive friends gathering to help him through his self-pitying days. His unspoken threat was that if he didn't get love and attention he'd become a junkie. His music was saturated in images of self-disappointment, needles, the blissful release and the dark corners. He seems to have been an emotional black hole, sucking in friends and acquaintances alike.
However he also created very haunting and beautiful music, and his following steadily grew. His posthumous album From a Basement on the Hill has received widespread critical praise, and sounds positively upbeat and optimistic compared with some of his earlier work.
Being dead so young admittedly adds to the allure and mystery of Smith who hardly revealed himself in interviews, so this biography by longtime fan Nugent (who has apparently written for Time and New York magazine) will doubtless be snapped up and scoured for clues.
Already panned overseas for its failure to talk with Smith's closest friends, Elliott Smith and the Big Nothing is actually better than some of its critics have allowed. Sure, it is peppered with small errors: Chad Blake rather than Tchad Blake; the New Zealand Listener writer is Pamela Stirling not Sterling; and the last time I did the cross-state drive in Texas the town of Lubbock was considerably more than 10 miles from Austin.
But in piecing together Smith's early life and what shaped him from published interviews, through conversations with his friends who would talk (perhaps more like acquaintances), and placing him in his cultural contexts of Texas, Oregon and New York, the author (who began the book before Smith's death) reveals the making of a sensitive singer-songwriter who moved from being a happy kid into the Beatles and classic rock like Led Zeppelin to one who explored the inner terrain with sometimes forensic efficiency.
In interviews Smith embellished aspects of his life in a somewhat self-aggrandising manner (his published accounts are contradicted repeatedly by friends) and perhaps that also adds to the picture of the man: a writer constantly creating himself, redefining his life and experiences, and quietly ambitious although trying to maintain the outsider, slacker attitude of his generation.
Smith's music is powerful because it is affecting and full of the frailty of being human.
But you might come away from this book thinking that much as you might admire the art, up close the man himself was pretty hard going.