Graham Reid | | 2 min read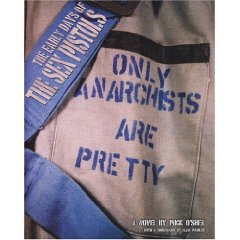 Before the whirlwind of success hits, there are often significant moments in the early careers of famous rock musicians: a teenage Elvis walking into Sun Records' studio in Memphis to record a birthday song for his mother; the young Paul McCartney being introduced to a drunk John Lennon at a village fete; Mick Jagger and Keith Richards meeting on a bus . . .
Such stories, with embellishment and when placed in a wider social context, take on elements of myth.
The story of the early Beatles -- playing in Hamburg's notorious clubs, the death of early member Stuart Sutcliffe, gigs at Liverpool's Cavern -- is legendary in popular culture and some of it was turned into the fascinating, rough-edged film Backbeat.
Would that the Sex Pistols -- every bit as significant as Elvis, the Beatles and the Stones in rock -- had such an interesting back-story. But even their most ardent fans would concede that before their notoriously foul-mouthed appearance on Bill Grundy's television show on December 1, 1976 there were few significant moments: maybe a green-haired John Lydon (soon to become Johnny Rotten) auditioning by performing along to Alice Cooper's Eighteen on the jukebox at Malcolm McLaren's SEX shop in London? But was there much else?
A lack of a decent backstory hasn't prevented O'Shea -- who was 15 when the group split and never saw them live at the time -- from writing this novelistic recreation of those days of pre-punk.
Heavy on invented, expletive-included dialogue in its early chapters, it sketches in the characters of the pre-Pistols and the scene around McLaren's fashion shop. But other than arguments, drinking lager and nicking stuff there doesn't seem that much to tell. You could be reading about any aspiring band (or career criminals) and only the knowledge of who they became in a later configuration sustains interest.
It isn't until Lydon appears that the story gains momentum, and the dialogue quota drops as O'Shea evokes the group's ramshackle rehearsals and often confrontational performances, with walk-on cameos from various members of the Clash, and those who would later become Siouxsie Sioux (of the Banshees) and the Buzzcocks, plus a few key journalists.
To his credit however O'Shea has rescued dirty-fingernail punk from the intellectual analysis it has been enduring in the past couple of decades.
The final chapters leading to the appearance on Grundy's Today show are the most successful, largely because O'Shea has access to media reports, interviews and previously published reminiscences and biographies to recreate the sense of atmosphere and tension.
The novel however ends where a story begins that even the most imaginative novelist could not have conceived: within months of the Grundy appearance they had been forced to cancel shows across Britain, released the still-thrilling Anarchy in the UK single, had been dumped by EMI then A&M before signing to Virgin, and bassist Glen Matlock quit to be replaced by Rotten's friend Sid Vicious.
And that's another, more true and tragic story.