Graham Reid | | 1 min read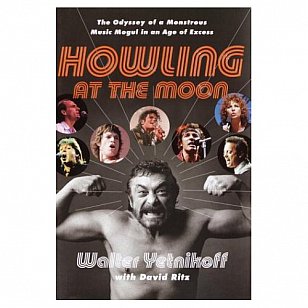 Yetnikoff, former head of CBS Records who helmed the company's sale to Sony, tells a racy, drug-fuelled story of 70s and 80s excess, fame and fantasy.
He opens by describing sex with Jackie Onassis (it's a dream, but he is to meet her later that day to talk about him writing a book of his mad life) and then his day really begins.
There are vodkas, snacks of cocaine and marijuana, a whining phone call from Michael Jackson, smashing two posts of his antique four-poster bed, dealing with the meltdown between the rap outfit Public Enemy and Jewish groups over alleged anti-Semitic comments, Billy Joel and Mick Jagger on the phone, his wife throwing him out, the doctor giving him bad news ...
Quite a day. And pretty typical if his book, subtitled "the odyssey of a monstrous music mogul in an age of excess" is to be believed.
Yetnikoff was one of the biggest power players of his generation and presided over a music empire which could do no wrong.
He came along as CBS was easing from the world of Johnny Mathis and Andy Williams into the rock era with Bob Dylan, Jackson, Springsteen, Barbra Streisand and Joel at the peak of their record-selling careers.
Yetnikoff was an outrageous ego in their midst: conniving, ambitious and coked to the eyeballs.
Despite his tales of womanising, corporate battles and gossipy stories of the famous, this memoir is at its best when he tells of his New York childhood with his eccentric immigrant grandparents and brutal, indifferent father. It is a snapshot of the post-war era which he recalls with an eye for detail and little regret.
Howling at the Moon -- which he literally did when Sony bosses locked him in his Tokyo hotel room to keep him under control -- is thoroughly readable but irredeemably flawed.
He writes page after page of (often offensively humorous) conversational exchanges of which he could not possibly have any such specific recall.
This is the novelisation of an extraordinary, but not particularly likeable, rogue's life. It is punctuated with boardroom backstabbing, and regret for the adulterous affairs which ended his marriage and injured his two sons (who barely rate a mention).
There is slight remorse for being buried in coke, fame and warm thighs, and the hedonism of an era which he rode and enjoyed.
"To trace a lost soul is a tricky business," he writes. "I suppose if I knew where I lost it I could go back and claim. But in my case it was incremental ... I see it now. I sure as hell didn't see it then."
In the final chapters there is late-in-life redemption and clarity. Yetnikoff has been straight, sober and doing charitable work since '89. These days, in his mid 70s and comfortably inured from the vicissitudes of life, thanks to a gobsmacking payout from Sony, he's a man at peace with his present, if not that wildly excessive past.