Graham Reid | | 2 min read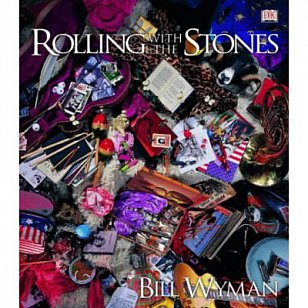 There's a widespread belief - peculiarly pervasive among rock writers, oddly enough - that Bill Wyman's Stone Alone autobiography of the Rolling Stones was boring, as if this was a surprise.
Wyman, the bassist who quit in late '91, was always the odd man out. Seven years older than Mick Jagger and born with the superbly Dickensian name William Perks, Wyman stood apart from the mayhem of rock'n'roll with mild bemusement, although open to opportunities which presented themselves.
In 1965 they worked out that Mick Jagger had slept with about 30 women, Keith Richards six, Brian Jones 130 and drummer Charlie Watts none, because Charlie was married and faithful. Wyman was also married but had clocked up a spectacular 278 on the side.
How did he know so exactly? Because since childhood he had been an inveterate diarist - he still is - and could scan his back pages to tell you what colour tie he was wearing on a particular day in 1963.
Stone Alone certainly had the feel of mundanity about it. But as anyone who has been on the road with a rock band will attest, that's mostly what it's all about. In that, Wyman's book was a more true reflection of rock'n'roll than the wham-bang incidents we might think make up the everyday life of a rock musician.
In the mid-80s drummer Watts was asked what it had been like being in the Stones and he replied, "Five years of work and 20 years of sitting around".
The 90 minutes on stage and the four-hour party afterwards are usually preceded by days,
if not weeks, of all that sitting around. Wyman documented them all.
But he also kept Stones memorabilia: concert tickets and posters, newspaper clippings and informal photos, rejected album cover artwork and letters from fans.
It is these which make up his wonderfully trivial Rolling with the Stones, which opens with childhood photos of the original band, moves through pages documenting their influences, then takes off into that unique career trajectory which took the group from the clubs of Ealing to the world stage in a remarkable two years.
In pages sprinkled with telling photos and period quotes, enhanced by posters and handwritten notes or lyrics, this is the Wyman book Stones fans probably wanted in the first place - and as they trundle around the planet on their 40th anniversary tour, this is as colourful a memento of a very colourful career as any.
With insider access to opinion within the band, his consistent crediting of Brian Jones - who died in mid-69 at age 27 shortly after being alienated in the band he founded - as a prime mover in their career, and that remarkable store of memorabilia, this large-format 500-page hardback will be a page-turner on many middle-class coffee tables.
It is also a prompt to memory when long hair was a threat to civilisation and some really believed Jagger had conjured up the spirit of Satan at Altamont in '69.
Incidentally, Wyman - who like all the Stones was described as a "rock millionaire" when the Hells Angels took charge at Altamont - had a bank overdraft of £12,000 at the time.
The devil is in the details. And here, in glorious colour, they are.