Graham Reid | | 2 min read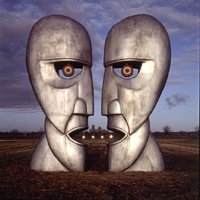 For many Pink Floyd fans the name of photographer/designer Storm Thorgerson conjures up an image of some Scandinavian psychedelic traveller, hair blowing in the breeze as he traverses landscapes of the subconscious and alights on startlingly personal visions which then become public proprerty.
Thorgerson is the man with a mainline to the images which have long been associated with this often musically flatulent but remarkably resilient band.
It was Thorgerson -- and more particularly in the early days, his design company Hipgnosis -- who provided those striking, memorable and often downright peculiar album cover images for which Pink Floyd became known.
And far from being some psychedelic visionary from the stark landscapes of northern Europe as his name suggests, Thorgerson -- an old school chum of Syd Barrett, Roger Waters, Rick Wright and Nick Mason -- is, on the evidence of his text here, a down-to-earth, wry, witty Englishman and one who considers computers not a tool, "but a restricted menu giving you the illusion of wide choice while confining you to computer land".
That sounds like a wise man speaking.
This large-format, surprisingly interesting book -- full of colour photographs, alternate or rejected designs, ancillary artwork such as tour programmes and the CD reissue graphics, and enjoyable anecdotes -- goes some way to explaining the ethic which guided Thorgerson and the Floyd.
Thorgerson to his credit, also concedes when album covers weren't successful and doesn't feel the need to hail every Floyd album as a singular work of genius either. A wise man indeed.
With much amusement he tells of the frustrations of his work: can you imagine getting 700 Victorian beds plus sheets, blankets and pillows arranged on a beach in North Devon for the Momentary Lapse of Reason cover only to be rained out just as the shutter was about to click?
Or of attempting to represent absence (Syd Barrett's) for the sleeve of Wish You Were Here?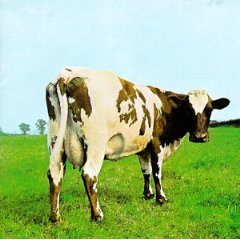 And if you were wondering why the band called their album Atom Heart Mother and chose to put the picture of a cow on the front, then Thorgerson is your man. The title apparently came from a newspaper report of a mother-of-five having an atomic-powered pacemaker inserted; and the cow was the antithesis of how how you read a photograph, he says.
No lighting, no texture or technique to be considered here, "no haunting mood, no dramatic lighting or evocative setting: there is no cosmic intent, no swirling landscape of the mind, no graphic/logo type simplicity. Just a cow. No deep and meaningful statements. No psychedelia. Just a cow."
Simple as that.
And that album title Meddle? Apparently the band phoned it in from Japan while on tour. Their wives, for the first time, were with them, says Thorgerson. And so that explains that.
With detail on photographic and design techniques. separate sections on Floyd solo albums, pages interspersed with beautiful marbling effects and alternate covers from the same session (the version of Momentary Lapse of Reason where the tide was in is a real winner, but was rejected), Mind Over Matter transcends the genre of "album cover book for the coffee table", becoming something much more informative and enjoyable.