Graham Reid | | 5 min read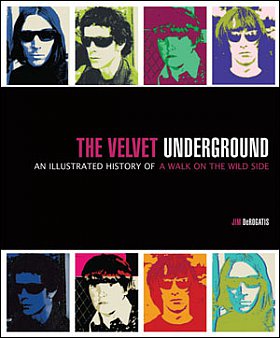 In 1976 the musician/producer and music theorist Brian Eno said to Punk magazine of New York's the Velvet Underground: "I knew that they were going to be one of the most interesting groups and that there would be a time when it wouldn't be the Beatles up there and then all these other groups down there.

"It would be a question of attempting to assess the relative values of the Beatles and the Velvet Underground as equals".

Just by the staggering of chronology -- the Beatles appeared in mid 1963, the Velvet Underground debut album mid-wifed into life by Andy Warhol came in early 67 -- there has always been the sense that this dark, droning and literate band were somehow late-comers to the strange party that was the 60s.

Yet as this large format book shows, a true chronology tells you the VU were playing in late 65/early 66 and delivering their extraordinary music around the time the Beatles were stepping cautiously beyond the frivolity of their movie Help! towards the experimental pop on albums such as Rubber Soul and Revolver.

The grinding live performance Extemporisation/Melody Laughter on the VU box set What Goes On -- only an eight minute extract from a performance which must have bewildered the good people in Valleydale Ballroom of Columbus, Ohio in November 66 -- shows that here was a band which owed little to the pop or rock of their period.

Singer-songwriter Lou Reed -- who took as his subjects things common in street life and edgy literature such as drugs, sado-masochism, the dark side and low places -- found a complementary player in John Cale, the classically trained Welsh viola player who came to America on a Leonard Bernstein Scholarship and had studied at Tanglewood with the composer Iannis Xenakis before moving to New York.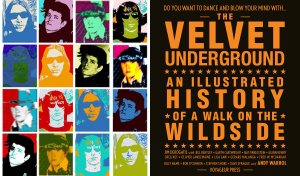 Reed's monotone narratives (often offset by songs of great delicacy it must be conceded) were married to Cale's drone, the metronomic drumming of Maureen Tucker and the guitar stutters of Sterling Morrison.

This was hardly Help! or Yellow Submarine.

Yet curiously, for all that the VU -- dressed in black, eyes hidden by impenetrable shades -- despised the colourful, acid-soaked hippie culture coming out of San Francisco, many of the posters for their concerts which fill the later pages here illustrate just how constrained they were by the iconography of that period.

Their handbills, posters and newspaper advertisements were often squarely within that psychedelic graphic style more familiar from Grateful Dead and Moby Grape artwork.

They also played the same venues as bands such as Big Brother and the Holding Company, The Peanut Butter Conspiracy and Iron Butterfly, and were on bills with the Jefferson Airplane, Captain Beefheart, the Blacksnake Blues Band and other unlikely cohorts.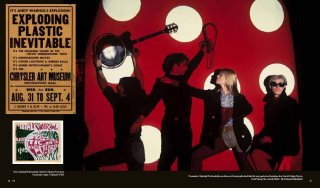 In May 69 they followed the Who, Joe Cocker and Led Zeppelin with dates at the Boston Tea Party.

Scanning these posters and the more than 300 concert, backstage and intimate photographs allows us at this distance to re-contextualise this band, which progressively became more influential than they were at the time.

Their debut album The Velvet Underground with Nico -- in a provocatively phallic, pink banana cover designed by Warhol -- may have only sold a few thousand copies at the time (it peaked at 171 on the US charts) but the band was far from alone in spreading a little darkness among the bright days of hippiedom.

Groups such as Love and The Thirteenth Floor Elevators, as well a hundreds of garage bands, weren't exactly sympathetic to the injunction of Scott McKenzie's flower-power hit which said "if you come to San Francisco, be sure to wear some flowers in your hair".

Yet of them all the VU were the most influential: the standard line, often and possibly mistakenly attributed to Eno, was that while only about 5000 people bought the debut album, everyone who did went out and formed a band.

Quotes from critics in their early years however adopted a familiar tone: "a three-ring psychosis that assaults the senses", "not since the Titanic ran into that iceberg has there been such a collision as when Andy Warhol's Exploding Plastic Inevitable [aka the VU] burst upon the audience at The Trip", "a sound that can only be compared to a railway shunting yard" . . .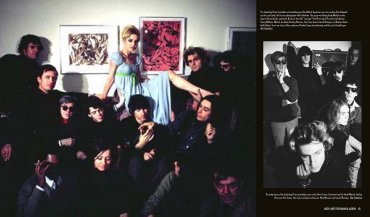 Certainly they had their supporters and cheerleaders (notably critic Lester Bangs), but the VU stood some distance from what was happening around them and wilfully went their own way.

The text here by rock'n'roll writer and critic DeRogatis sketches in the biographical outlines through to the inevitable disillusion (and a version of the VU which had no original members limping on to an album) and there are brief album-by-album analyses. One is by former Auckland writer Garth Cartwright who has the unenviable task of making the case for the post-Cale album Loaded in 70.

There is also an 75 interview with Morrison, who died in 95.

None of these, nor the potted histories of the subsequent careers of Reed, Cale and Tucker -- as well as their brief and volatile re-formation in 93 -- adds much to what is already available in many other places.

But, as the title says, this is an illustrated history -- and the photos and posters tell their own story.

Here are photographs of them looking impossibly young yet knowingly wary (Reed flashing a peace sign, which seems somewhat out of character); of the book covers which gave them their band name and title for Venus in Furs; of their early shows ("Andy Warhol presents Halloween Mod Happening" [sic]); album covers in various international versions; concert tickets, rare photos of them laughing or actually smiling for the camera . . .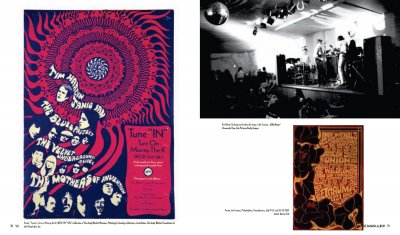 And then those hippie-style posters which must have seduced in tripping headband-wearers and girls with day-glo face-paint . . . only for them to be confronted with the drone and monochrome sound of Venus in Furs and Run Run Run, the terrifying if thrillingly evocative rush of Heroin, the dark drama of White Light/White Heat . . .

"Taste the whip, now bleed for me" was a long way from "picture yourself in a boat on a river with tangerine trees and marshmallow skies".

Same year, a slightly different headspace.