Graham Reid | | 3 min read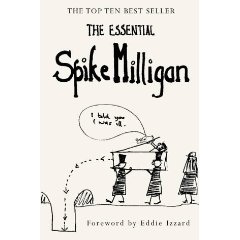 On New Zealand's national Poetry Day in 2004 a television news team buttonholed people on the street and asked them to recite a piece of poetry. One guy did an impromptu local variant of Spike Milligan's Silly Old Baboon.
By coincidence, that very day a letter writer to the New Zealand Herald expressed outrage about the artist et.al being chosen as New Zealand's entry for the Venice Biennale by referring to her previous work, "a portable toilet with donkey and exploding noises", as hardly unique: "Just listen to Major Bloodnock in any Goon Show of nearly 50 years ago. I hope she credited Spike Milligan for the inspiration."
That Milligan — who died in 2002 — should still walk through our collective memory is hardly surprising; the man was a wit for all seasons whose songs, poems and surreal musings touched people for their humour and turn of phrase.
This excellent collection takes the long and inclusive view of Milligan's diverse works: here are the lyrics to his '56 hits I'm Walking Backwards to Christmas and the Ying Tong Song ("Ying tong ying tong ying tong ... ") alongside selections from his Silly Verse for Kids ("On the Ning Nang Nong where the cows go Bong! And the monkeys all say Boo!").
There is the first radio script from '51 when Harry Secombe, Michael Bentine, Peter Sellers and Milligan appeared as Crazy People, plus the opening chapter of his hilarious novel Puckoon, a kind of deranged and Irish Under Milk Wood which began: "Several and half metric miles North East of Sligo, split by a cascading stream, her body on earth, her feet in water, dwells the microcephalic community of Puckoon."
Yet in the very absurdity of the malapropism (of the kind which inspired John Lennon's two books In His Own Write and A Spaniard in the Works) there is poetry, and that side of Milligan is also represented here. Milligan was a tragic clown whose life was punctuated by nervous breakdowns and manic depression (of which he made light sometimes).
His piece Manic Depression written in 1960 reflects on a period in a psychiatric ward in '53-54 and is eloquently sad.
The pain is too much
A thousand grim winters
grow in my head.
In my ears
the sound of the
coming dead
All seasons, all same
all living
all pain
No opiate to lock still
my senses.
Only left, the body locked tenser.
And he writes beautifully about love that fades. This from Toni, about his first serious girlfriend, which starts bathed in the light of hope and promise ("We carved our hearts in a tree in Graz, and the hands of the clock stood still") and ends just a few spare words later with "But the road we ascended had finally ended. Addio amore. Toni."
Elsewhere he rails against the insanity of war (The White Flag, Soldier, soldier) and man's indifference to animals. Short moralistic pieces like Once Upon (Man's inhumanity to animals, then his own kind) have the ring of Oscar Wilde about them.
But for most Milligan was the funny man and so attention naturally turns to his scripts for The Bed Sitting Room and The Two Ronnies (their classic The Phantom Raspberry Blower of Old London Town). Without these there would have been no Monty Python's Flying Circus as the various Pythons freely admit. Tellingly Eddie Izard writes the foreword, another generation on from even the Pythons.
Here he is in a piece called Coronation:
Said Prince Charles
when they placed
The Crown on his head
I suppose this means
That Mummy's dead.
His script about a Jehovah's Witness boxer is hilarious.
"We refrain from violence in the ring."
"How does that work?" "I get a thrashing and he don't."
"And what's the point of that?"
"He goes away ashamed of himself"
"And you?"
"I go away on a stretcher."
Milligan was an absurdist but everywhere there is a disconcerting ring of truth, captured in a witty, pointed and deflating epigram such as this: "A lot of learning can be a little thing."