Graham Reid | | 1 min read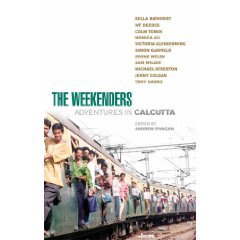 According to Gunther Grass the sprawling city of Calcutta is like a pile of shit dropped by God. That may or may not be true, but the Maker's handmaiden, Mother Teresa, confirmed the impression in the minds of many that this was a city of abject misery peopled by the dying and hopelessly infirm.

Only a fool would deny Calcutta its extensive poverty, but a city of 14 million souls has much else besides. Great wealth lives, often literally, as a neighbour to mendicants and sadhus, street urchins, bewildered post-colonial representatives of European nations, and an educated class of Indians working in call-centres for American companies.

Calcutta — officially Kolkata since January 2001 — is undoubtedly one of the world's great cities. So it was an excellent choice as the subject of this second in the series The Weekenders, in which a bunch of well-known or acclaimed British writers are dropped in and left to create their own impression of the place.

Bella Bathurst opens with an excellent historical overview of Bengali culture using the Ganges as its starting point, and Colm Toibin takes a sympathetic and engaged view of the work and legacy of Mother Teresa.

Michael Atherton's fictional story of a father obsessed by cricket is deft and amusing, but Irvine Welsh writes an adolescent spook-story novella that reads like the rough draft for a silly film.

It is a collection not without humour: Tony Hawks writes about laughter and making a spectacle of himself, and Jenny Colgan casts a cynical eye over the poverty: "You can't even meet a child prozzie any more without tripping over four charity people trying to help her out and lots of other people standing around shaking their heads and taking artistic photographs for broadsheet magazines."

Yet something rankles: the engagements with Indians seem slight and straining for effect, especially in the fictional pieces. That said, this is an excellent concept for a series (the first about Africa won the WH Smith travel book of the year award in 2002) and Bangkok springs to mind as a possible subject for another — although from some contributors here you would fear the worst.