Graham Reid | | 1 min read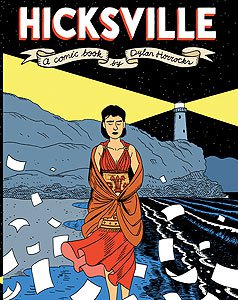 In interviews Dylan Horrocks, the 43-year old New Zealand writer and artist of the graphic novel Hicksville, is candid enough to note that more people in his home country know about his book than have actually read it. That's because it was serialised in his own magazine Pickle over the years from '92 but when the final episode was due he was offered a book deal for Hicksville through a Canadian publlisher.
He thought about whether loyalty to his following meant he should publish the final episode in a forthcoming Pickle to complete the series -- or just grab the opportunity of getting the whole book out. He admits he didn't think very long.
So Hicksville appeared internationally as graphic novel in '98 -- but until early 2010 was never given a New Zealand edition. Copies were scare in Kiwiland, the place where much of the story is set -- but at least that meant there was a ready market for it when this Victoria University Press edition (with a new introduction by the author) finally appeared.
This multi-layered story with entwined plots about comic art and artists, the rapacious corporate greed of Hollywood in sucking up young comic artists' talent and plotlines, speculation of the nature of Kiwi culture, and the imaged town of Hicksville where comics are cherished and preserved may sound like this is a complex book.
But Hicksville -- through the presence of a couple of central characters -- keeps the reader's attention through its human heart.
In '02 Hicksville won Horrocks an Eisner Award for Talent Deserving Wider Recognition.
Much like Watchmen had interpolated narratives but drawn with the elegant and elemental simplicity of Maus, Hicksville is a story where images convey states of mind as much evocative landscapes or brittle emotions.
Hicksville is also punctuated by often slightly acerbic quotes from older comic book artists ("Even more than money an artist likes to be loved," Joe Simon) but such cynical (or astute) observations don't detract from the innocence and curiosity of some of the characters and it is their voyages of (self) discovery which carry the reader into uncharted territory.
Horrocks acknowledges that often he wasn't sure where the narrative threads were leading but that he just had to follow them. To some extent that is evident.
But the subtexts of cultural dislocation and attempts to define national character (which Kiwis will recognise more than overseas readers) are still as valid as they were when Hicksville first apppeared.
This is a long overdue local publication of a graphic novel that seems to say more about Horrock's parallel worlds of New Zealand and comics with each re-reading.