Graham Reid | | 2 min read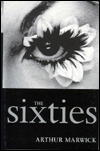 One of the more mindlessly amusing one-liners about the Sixties says that if you remember them t.hen you weren't there. Duh.

That sitcom aphorism reduces the decade to flakiness and drugs, and bears no serious scrutiny at all.

By rule-of-thumb and common consensus, what are loosely called the Sixties are the five years between She Loves You and Woodstock, a period which witnessed extraordinary social change - the distance between "l wanna hold your hand" and "I'd love to turn you on."
But considering the period by reference to popular culture and its soundtrack is witless laziness and is perpetrated in the recent documentaries about Vietnam which saddle the images with the Doors' The End, a legacy of Apocalypse Now, and not of the free-fire zone.
The period was more than marijuana and the Maharishi - and nostalgia for Beatlemania or footage of American soldiers burning Vietnamese villages denies the complex sociopolitical movements, vibrancy of international socialism, civil rights campaigns and the speed of communication which took the images of dissent and violent protest into homes across the Western world.
In this far-flung corner we knew the names of activists as disparate as Tariq Ali, Jerry Rubin and Danny the Red, even if the nuances of their different perspectives were flattened out by the tyranny of distance and lack of internal debate.
Strict periodicism fails to take into account the factors which shaped the start of the decade and the impetus the various social movements carried into subsequent years.
ln this intelligent, digressive and inclusive 800-page tome, Arthur Marwick (a founding professor at that most Sixties of institutions, the Open University) takes a broader view and establishes the premise of a cultural revolution starting in 1958 and ending around 1974.

He denies the old Received Disadvantage Point of the period and, while addressing Vietnam, Bobby Seale, Sgt Peppers and so on, recognises that life in Nuremberg in 1966 was very different to that in New Jersey despite the pervasiveness of the Beatles/Dylan/Stones soundtrack, and what reductive sitcoms, social philosophers and blue-jean sociologists might think.
In chapters on subjects as diverse as concepts of beauty and the impact of new ideologies on town planning, Marwick acknowledges that for some people the Sixties were about crippling mortgages as much as Charles Manson, and that citizens of a nation under a gun or a Soviet-tank invasion tend to define freedom very differently from those protesting outside a Democratic convention in Chicago.
Marwick weaves simultaneous but obviously very different experiences - whether they be psychedelics or surrealism in films, national identity or activists drawn to radical violence - into a cohesive web.
In popular culture he can be wrong-headed (elevating films such as Darling and The Ipcress File, calling Peter Sellers "a character actor") and he unashamedly interposes the clunking first-person-singular pronoun on occasion. You sense he is better with the big picture than condescending into the proletarian world of the Monkees -and The Avengers.
That said, The Sixties is an admirable overview of very different cultural contexts during this dynamic period.
With useful statistics, a largely unacademic text and provocative dissections of political movements and underground idealism, he distils to the sometimes uncomfortable essences.

So if you were there but can't remember it, let Marwick be your guide to what you missed.

And for anyone who thought it was all acid, Hendrix and Alan Alda sermonising on M*A*S*H, this will allow you to filter-feed the isms and schisms of a confusing, diverse, politically charged period. A time which, lest we forget in the rush to embrace greatest hits and the marketing of the decade, came with some really lousy music too - none of which Marwick has the poor grace to single out.
Unexpectedly interesting, and a useful reference as well.