Graham Reid | | 3 min read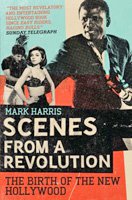 That film is a collaborative art is accepted, but it can also be a war of attrition where inflated egos collide at the interface of culture and commerce. And in Hollywood where the stakes -- money, careers, egos -- are bigger, and can disproportionately rise or fall dramatically with any project, then the stories from behind the scenes can be outrageous.
Peter Biskin's Easy Riders, Raging Bulls, published in the late Nineties, was a fascinating, funny and sometimes frightening expose of the creative and cocaine-fuelled Seventies in Hollywood. Many of the same names -- notably Warren Beatty, Faye Dunaway, and proto-hippie editor Hal Ashby -- appear in Scenes From A Revolution, a prequel of sorts which takes as its seemingly unpromising premise the making of the films nominated for the 1967 Academy Awards.
And quite some story is revealed as writers, actors, directors and studio bosses negotiate and browbeat the diverse selection of films on to the screen.
The films -- In the Heat of the Night, Guess Who's Coming to Dinner, Bonnie and Clyde, The Graduate and, improbably, Dr Dolittle -- exemplified the schisms that were emerging between new talent (Beatty, Dustin Hoffman, Dunaway, and Sidney Poitier in both Heat of the Night and Dinner) and the old guard (Rex Harrison in Dolittle, Spencer Tracy and Katharine Hepburn in Dinner).
But set against the backdrop of the increasingly volatile 60s -- Martin Luther King was assassinated four days before the Oscar ceremony in April '68 -- there were contemporary issues raised in some of these films: Heat is a drama about race; Dinner is an almost old-school comedy where race looks like it's being debated but is in fact skirted in the context of the times; The Graduate effectively refused to bow down before the old values of Dinner; and the violent anti-hero stance of Bonnie and Clyde raised a finger to the movie establishment as epitomised by the foolish and already dated musical Dr Dolittle.
These films also illustrated the ends of careers (Tracy dying, Hepburn absent from the screen for years, Harrison a repugnant, petulant and racist old actor) and the start of others (Hoffman, Dunaway). Author Harris weaves the various threads of character, commerce and art into a compelling narrative which leaves you feeling slightly unclean about many of the characters (the booze-soaked Harrison and his suicidal wife, Rachel Roberts, who would bark like a dog when drunk - and she barked a lot) and yet admire the persistence of others.
Beatty's drive to make Bonnie and Clyde -- a film he produced and starred in, changing the direction and character with every script rewrite -- is almost obsessive. Director Arthur Penn turned the project down three times but Beatty had his own reasons for taking the lead role in the end: he'd been in Hollywood only three years but had made three flops after an impressive start and was already in need of a comeback.
Poitier is among the most interesting characters: handsome, articulate, immaculately groomed and unfailingly polite, in the absence of other black actors (the equally handsome Harry Belafonte was only an occasional screen presence) he had been forced to become an emblem of his race and was increasingly uncomfortable with the do-gooder parts he was offered (and took).
Of his character in Dinner - a doctor who falls in love with the white daughter of Tracy and Hepburn's characters - H. Rap Brown of the Black Panthers said even Governor George Wallace of Alabama would have liked him. Parallel to this, Hollywood was also being forced to change because of the influence of French, Japanese and British directors whose work was more innovative and, when it came to matters of sex and language, less inhibited. Hollywood studios -- constrained by the increasingly outmoded Production Code framed in 1930, which prevented even the most mild of cuss words let alone sex and violence -- could only think to mimic success: after The Sound of Music, musicals quickly in development included Camelot, My Fair Lady, Funny Girl, Oliver! and Thoroughly Modern Millie.
Similarly after the box-office breakthrough of the James Bond films there were more than three dozen Bond rip-offs, spoofs and copies within three years.
"We have moved into a trap, a self-imposed, self-induced trap with our dependence on best-sellers, hit plays, remakes and rehashes," said director Fred Zinnemann.
With a cast including Francois Truffaut and Jean-Luc Goddard (both initially approached to direct Bonnie and Clyde), Richard Burton and Liz Taylor, various Fondas, Sammy Davis Jnr and the pugnacious critic Pauline Kael, Scenes From a Revolution is one of the most insightful and detailed books about Hollywood behind closed doors.
If you can't remember who won what at the awards, the final chapters are nail-biting.
But the journey to that moment is revealing in what it says about the studios, politics, the times and the largely unattractive people who bring films to life.
Rex Harrison, a cheery presence on the screen, sounds like an appalling, arrogant and wilfully obstructive man with no redeeming features. He was in a musical and couldn't sing, and that was the very least of his flaws.