Graham Reid | | 2 min read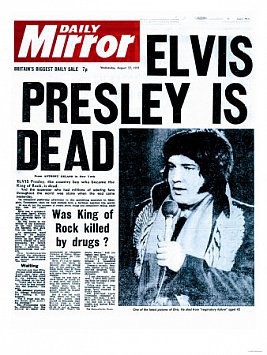 With the second volume of Peter Guralnick's definitive two-part biography of Elvis, Careless Love: The Unmaking of Elvis Presley there would seem little reason to be interested in this more modest paperback subtitled with blunt literalism The Life and Death of Elvis Presley.

However, Brown and Broeske have done their homework and cite numerous personal interviews with major protagonists including the notoriously unforthcoming Sun Studios head Sam Phillips, who first recorded the man who would be King, manager Colonel Tom Parker and Presley's last girlfriend, Ginger Alden, who found his bloated body face down in the toilet that afternoon in August 1977.

Over the decades there have been plenty of scurrilous books and articles about Presley (in their instructive introduction the authors cite a Presley family member alleging Elvis had a sexual relationship with his mother) but this book cautiously charts a course between sensationalism and genuflection while not shying away from obvious truths, notably that Presley was as sexually active as his detractors would have it.

He was hardly the chaste mamma's boy some loyalists would have you believe.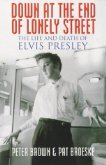 The chapters about the pivotal period of his stint in the Army in Germany make fascinating reading. While Presley maintained the image of being one of the boys (he was a diligent serviceman, an accomplished map reader and prepared to tough it out with the rest of the troops), he spent only the first five days of his two-year induction in barracks.

After that it was into a hotel suite and then a house, in which Elvis - and his ever-present entourage - could party up large. He entertained a constant stream of willing women in his room overnight, "some as young as 13 or l4".

It was also in the Army that Presley developed a taste for the prescription drugs which would control his life. Amphetamines allowed him to work the day job of being a soldier and heightened his sexual stamina.

As the authors faithfully but unsensationally recount, it was all downhill from there: back to the States and into dire movies, marriage, the occasional flicker of genius, the overeating and chemical intake, divorce, isolation and decline.

For those who can't be bothered ploughing through the massive Guralnick this is a fair, sometimes uncomfortable but sympathetically written primer -- and a peek into the sad, remote private life of the man who had it all but was allowed to squander his particular genius by those around hm for whom the words, "No Elvis" simply weren't in their vocabulary.