Graham Reid | | 3 min read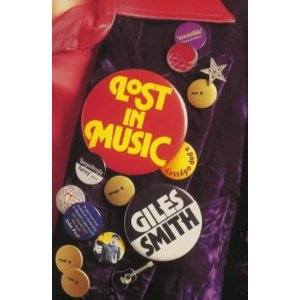 Pop obsession can be tragic stuff: those long days in record shops searching for an obscure Flock of Seagulls 12-inch; the nights spent putting all your albums into alphabetical order (do solo projects by Roddy Frame go with Aztec Camera or get their own space?); the decisions to be made when moving in with someone (do you pool your records and trade in the duplicates? And if so, whose duplicates?)

This way madness lies -- and it is captured in all its trivia and stupidity in this revealing story of one man's "mission to become Sting," [see extract below] and a journey into the world of rock and then back to his mum's.

There are a number of ways ways of describing this odyssey through pop, but Melody Maker at the time settled on "bowel-voidingly funny."

Smith, a journalist, describes in howlingly hilarious detail his pop obsession from the non-rock metropolis of Colchester, a city scrupulously devoid of pop stars (until Blur, who he notes left at the first opportunity and put on mock-Cockney accents).

This accident of birth doesn't stop the teenage Smith standing on street corners waiting for Marc Bolan to pass by. Marc never does although Alvin Stardust did but "I didn't say anything though, I hated Alvin Stardust."

Smith -- who briefly joined a band with his brothers only to have his mum suggest an obviously naff, but then unclaimed band name -- tells of the depressing realisation he couldn't play guitar but would be stuck with keyboards.

"Keyboard players seemed to be people like Tony Banks of Genesis, perhaps the least expressive man in rock, whose idea of a crowd pleasing freak-out is to nod gently to himself."

And the keyboard you could wear guitar style "didn't make you look like a guitarist, it made you look like a keyboard player with a bad case of career envy."

Still, none of this prevented the determined Smith from joining bands such as Pony (they didn't go down well in London because Cockney rhyming slang is "pony and trap" equals . . . you can guess). His most notable success came as one half of the Cleaners From Venus -- dropped by RCA Germany in 1989 after negligible sales of their debut were astonishingly undercut by sales of their second – but along the way Smith describes those schoolyard arguments about who was better: Slade or T. Rex; confesses to his unhealthy 10cc preoccupation; admits to collecting for its own sake; reveals a Stalinesque culling of his record collection (he purged a mere 13 albums -- not for sale but to store in his Mum's cupboard, where he found them when writing the book); and of those difficult decisions about stereos and albums when he moved in with his girlfriend.

"In the end I got the spare room of the flat for my own stereo and my own records. We talked maturely about this in terms of the 'space' I would doubtless 'need', though it wasn't me who needed the space, it was my albums."

Smith went on to write for the likes of Mojo, Q and the New Yorker. But he's the first to admit the idea of Becoming Sting hasn't fully gone away.

This is very funny short concentration span holiday reading for anyone who ever bought an album they knew they didn't want - but just had to have. And maybe still have it.

Lost in Music, extract

"It was a shame because I really fancied Sting's job. Great pay: the best pay.

Superb hours too (because what does Sting actually do in the long months between albums and tours? He mucks about, I reckon). Homes in Hampstead and New York and Miami and Los Angeles (Barbra Streisand's old place, in fact). Not that I wanted to make records that sounded like his, but I was certainly on for the lifestyle. Concerts, fans. Pop music. Pop stardom.

Strictly speaking, of course, no vacancy for a Sting was ever advertised - though as aspiring musicians tend to do, I read Sting's mere existence as an indication that the World needed Stings. In any case, the fact that no one had said so, let alone been looking at me when they said it, was really the least of the insuperable obstacles I wilfully ignored when I set out on Mission Big Time.

This book is the story of that voyage - one man's journey into the world of rock and then back to his mum's. And at the same time it's a book about what gets into people when pop gets hold of them. And boy, can pop get a hold. It's pushy like that. You've really got to watch it. You invite pop into your house on a fairly casual basis and the next thing you know it's telling you what to wear and picking your friends."