Graham Reid | | 2 min read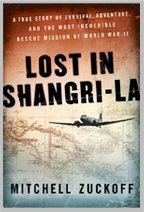 As with many of his generation, American president Franklin D. Roosevelt had been taken by the idea of "Shangri-La", that tolerant refuge from a troubled world James Hilton had written about in his 1933 novel Lost Horizon and which Frank Capra had adapted four years later for his enormously popular film of the same name, released as the world was tumbling towards another great global conflict.

Roosevelt quoted from Hilton's novel during a speech in Chicago in 37 (the passages about "a time when men, exultant in the technique of homicide, would rage so hotly over the world that every precious thing would be in danger") and it is said when asked where the planes had come from which bombed Pearl Harbor he replied, somewhat inappropriately, "Shangri-La".

The notion of a remote utopia of tolerance must have been appealing in wartime – it is even in peacetime – so when American troops in the outpost of Hollandia, today's Jayapura, in New Guinea heard of a hitherto unexplored valley in the mountains it became known by that name. And supply planes would take men and women on their days off for a low swoop over the place where tribal people had lived in useful ignorance of the rest of the world for possibly thousands of years.

It was on one such junket – 24 men and women on a happy fly-over in May 1945 – that tragedy struck. The plane ploughed into a cliff at the head of the Shangri-La valley leaving only four survivors (one of whom died within a day).

And so begins Zuckoff's remarkable story of a collision of cultures; the walking wounded which included a glamorous WAC Margaret Hastings, and headhunters constantly at war with each other who divided their world into themselves, their allies and their enemies.

Previous flights had observed the valley's inhabitants – who made no connection between the wounded and the noisy metal birds overhead – but nothing was known about them.

When the survivors – bleeding, gangrenous and suffering from burns – crawl from the wreck and down the mountain they are observed by dozens of mostly naked men (just penis sheaths) who watch and wonder if these battered things caked in mud (khaki) are the white gods they have been expecting.

In a sense rescue is not far off and within days the survivors have been sighted, supplies (mostly useless in the circumstances) dropped and then a party parachutes in. But the tension here is in the standoff encounters, some of which go hilariously wrong but potentially dangerous through cultural misunderstandings, and that getting out of Shangri-La is much harder than getting in.

Zuckoff writes with like a filmmaker – he shifts scenes between Hollandia, the tribal people, the survivors and their families in the States – but also weaves through anthropological information (the gift of a knife takes the tribal people from Stone Age to Iron Age in an instant) and keeps the tension going until the improbable rescue.

He also has the novelist's ability to create convincing characters by the accumulation of detail as much as biographical information, and although a quick ripping yarn in some senses there are passages – especially when he speaks of the valley people – which give you pause for thought.

It also tell us something of the media's desire to create heroes and the aftermath when the rescued returned home, and it is quite some story which manages to incorporate Roosevelt, a much married character actor who appeared in Hopalong Cassidy movies and the ex-wife of William Randolph Hearst in passing.

This would make a great film – but this Shangri-La would be nothing like the one in Lost Horizon. It's much wetter, dirtier and more dangerous for a start.