Graham Reid | | 2 min read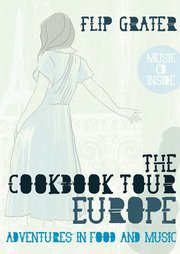 Subtitled "Adventures in Food and Music", this substantial book is of reminiscences and vegetarian recipes gathered on a two month European tour by New Zealand singer-songwriter Flip Grater, and it follows her previous smilar volume of journeys playing and eating her way around New Zealand . . . playing and eating delicately we might hastily add.
This also comes with a five-song CD which you can play while pottering over the pans and whipping up one or two of the 34 recipes, many of which it must be observed are rather simple (that's good) but also sometimes sound rather unappealing (Warm Bean Mash? Yum??) unless you happen to be of the vegetarian persuasion.
Still, brown onion soup with a tablespoon of Vegemite is bound to find favour at home and with expats in flats.
What is of as much, and possibly greater, interest is her lively and detailed prose in which she scrupulusly recounts her travels (so much so you sometimes wonder if she managed to look up while taking notes) which bring to life the joy and weariness of a traveling musician out there hoping against hope for a comfortable bed and a receptive audience.
She neatly observes the drearily predictable details of a "cafe" in Amsterdam and of the earthiness of truffle hunting in northern Italy, and her taste buds are given as much space as her visual observations . . . which is rarity in travel accounts.
Grater writes in a self-effacingly modest style, and is honest enough to note that "water might be a better match with my mysterious pills than Scotch" when she feels ill at a gig in Liguria and has to bolt outside for gulps of air. (Incidentally being vegetarian in Ligura means never having to say you've enjoyed some of the great delights of the region.)
She also encounters the usual frustrations of travelers -- even in cities or regions renown for their cuisine you sometimes can't find a decent place open -- and isn't afraid to comment on the ugly (Berlin's Cold War architecture as seen from the famous TV tower).
These days when so much travel writing smacks of stories and writers "selling" a destination, Grater's voice comes through as authentic, humorous, sometimes delighted and at other times worn out by the requirement to get to the next place.
That she does so well (CDs sold, appreciative if sometimes small audiences) is a testament to her quiet persistence in the face of it all.
But she certainly ate well and the recipes which dot the pages (many contributed, as before, by those she encountered) will find a welcome space in many flats, and her few poems throughout are also quietly insightful and self-aware.
Snapshots of friends, houses and vistas (not so professional as to detract from the warm low-key nature of the book) also punctuate these pages and add to the feel that here is someone telling her truth as she found it, and wanting to pass on the good and bad times . . . as well as recipes which may be simple but can also perhaps be more tasty than their often bland names (Betty's Boiled cake, anyone?) suggest.
NB: You can buy The Cookbook Tour, Europe direct from here.
THE COOKBOOK TOUR EUROPE by Flip Grater - BOOK TOUR NZ
(with special guest Reuben Bonner of An Emerald City)
Nov 25 Nelson, Boat House
Nov 26 Westport, Star Tavern
Dec 1 Oamaru, Penguin Club
Dec 2 Port Chalmers, Chicks Hotel
Dec 3 CHCH Food & Wine Festival
Dec 7 Auckland, Tabac
Dec 8 Raglan, Yot Club
Dec 10 Leigh Sawmill