Graham Reid | | 2 min read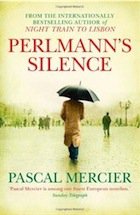 Those who are nervous about speaking in public usually have the perfect way out, they simply don't do it. And, for most, the required occasions are mercifully few so the paralysing fear never has to be addressed.
But what of those for whom being in the public eye is what they do? What if they are struck with an anxiety attack or stage fright? The more they consider it, the worse the condition becomes. The fear of being "found out", of failure in the pubic domain, of letting their public, colleagues and themselves down.
When, in 1995, an attack of depression coupled with bipolar disorder hit the polymath Stephen Fry – a man who always seemed to exude supreme self-confidence – he quit the London season of the play he was in and fled Britain.
Such extreme actions may seem bizarre, but when they strike the otherwise confident person, the internal monologue becomes filled with choking self-doubt and often irrational thought.
Such a situation hits respected linguist and recently widowed Philipp Perlmann in this intense psychological thriller by the author of the engrossing Night Train to Lisbon.
Invited to a conference near Genoa, Perlmann slowly realises he cannot write his speech and, through procrastination, imagining the embarrassing scenario which will unfold if he doesn't deliver, and relying on barbiturates which make him woozy, he sinks deeper and deeper into emotional turmoil.
The jovial nature of his assured colleagues becomes claustrophobic and as the days laboriously tick down to his seminar, he enters a phase of manic confusion. The arbitrary deadlines he places on himself invariably slip past: "When I pass this spot again on the way back I'll know what I'm going to do."
Admitting failure becomes unconscionable but his solution is even worse. While translating a paper by a colleague Leskov who cannot attend he decides he will use that.
"The word PLAGIARISM formed within him; against his will it grew bigger and bigger, it spread within him and filled him with an internal roar. He had never been confronted with the word as he was now, he discovered it properly for the first time."
But when the absent Leskov – "in St Petersburg, thousands of miles away, without an exit permit and still tied to his sick mother" – announces he will attend, Perlmann spirals into an even darker turn of self-preservation.
He develops a hatred for the man, the Italian coastline with all those twisting turns and precipitous cliffs, but . . .?
"Witnesses. Of course there must be no witnesses."
The road might be too busy, perhaps the mountain road then? And so Perlmann's inner monologue takes hold with a Hitchcock-like tension where small twists of fate, a passing comment by a colleague and a further angle of concern send him into a new downward spin of rationalisation and plotting.
At 600 pages and with Perlmann's inner doubts recounted in forensic detail, his doubts turned through his inner prism for scrutiny, this is a long and demanding novel. Here – as in certain Hitchcock films – little of consequence happens in the exterior world.
Mercier – the pseudonym for Peter Bieri, a Swiss professor of philosophy in Berlin – writes of those crippling self-doubts with a dogged determination to unravel them. But it makes for an equally dogged read of glacially-paced narrative about an unsympathetic character over-thinking his increasingly fragile ego.
Hitchcock would have chopped this right back but lost none of the essence as Cary Grant sweated inside a beautifully cut Brooks Brothers suit in this picturesque setting.