Graham Reid | | 1 min read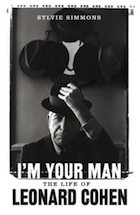 On the eve of his first tour as a musician in 1970 a nervous Leonard Cohen -- aged 34, an acclaimed poet and novelist itinerant between hometown Montreal, the Greek island of Hydra and New York's Chelsea Hotel – requested a mask be made for him to wear while performing. One of his own face.
As biographer Sylvie Simmons – astutely unpicking Cohen's life, lyrics, poems and relationships – observes, "Leonard clearly had enough self-regard that he did not want to operate behind someone else's face".
In this insightful, assiduously researched 500-page book – written with Cohen's co-operation but without his interference – Simmons pulls away Cohen's many masks to reveal a man who has always been, and seen himself, as an outsider: the teenager prowling the streets at 3am looking for inspiration and night people; the young Canadian writer among those many years his senior; the besuited singer with a briefcase among hippie musicians much younger; the Fifties poet who had nothing in common with the freewheeling Beats; the Sixties musician whose style owed even less to the rock world he inhabited . . .
Simmons reveals a man nakedly ambitious, self-centred, monastic in manner yet hedonistically indulgent (acid, speed, hash and numerous women despite the radiant Marianne celebrated in song), and someone never in doubt of his own genius while plagued by uncertainties.
Even his elegant fasting was a vanity "to keep the edges sharp" says Simmons, who draws parallels between Cohen's early retreat into austerity on Hydra (no power or running water) with that of the Zen monastery in California where he lived for years.
Here too is the self-styled Field Commander Cohen who went to Israel when the Yom Kippur war broke out in '73 to enlist – "War is wonderful . . . It's so economical in terms of gesture and motion" – and, although a longtime Zen practitioner (still Jewish), ironically found emotional redemption on a brief trip to India after leaving the monastery.
Former partners testify he is kind, a gentleman and caring . . . but always had one eye on the door. Over time 78-year old Cohen moved from the Socratic "know thyself" toward the Zen "no Thy-self" . . . and now his eye is on the darker door.