Graham Reid | | 1 min read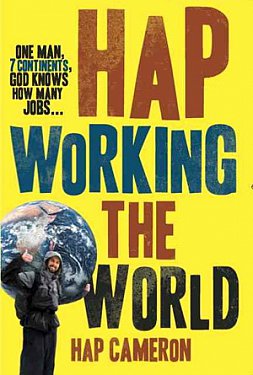 Told with all the enthusiasm of a man on his third beer at the barbecue, Cameron recounts his free-wheeling globe-trotting adventures after deciding, at 23, to see all seven continents before he was 30.
Like a passport-carrying Sam Cash from Barry Crump's stories, Cameron from Nelson offers the kind of backpacker, thumb-out yarn which should have considerable appeal for the Lonely Planet generation, and anyone prepared to enjoy his unselfconsciously writing style and admire how he rode his luck to achieve his goal.
There is the brief affair in Seoul where his girlfriend announces she is pregnant (the furious search for an abortion clinic not necessary because it was just her joke), months of indulgent luxury in Spain tutoring the son of a Russian family he'd met in Korea (topless beaches, his digs having a pool, jacuzzi and bar), a sojourn in Brazil before relocating to Ohio with the Russians to work in the corporate world, the Aids test (unnecessary, it was only meningitis), on to Kentucky where by good luck he saw Michael Campbell win the 2005 US Golf Open . . .
All this in just the first quarter of a book which opens with him being kidnapped by gangsters in Dar es Salaam.
As with so many Kiwi couch-surfers, perpetually broke Cameron would doss down anywhere – he spends unfeasibly long periods sleeping in cars – but also has a good heart and a social conscience amidst his self-fulfillment.
The period working in a Mexican orphanage is genuinely moving and changes him.
Cameron's story isn't all high times, passport and visa problems, being the world's worst waiter on a cruise ship to Antarctica or cycling across dangerous parts of Africa. He also recounts loneliness, failed or long-distance relationships, a brush with death (ironically in New Zealand while home on r'n'r) and being diagnosed with serious depression.
Rambling, funny, tense and mostly told with an increasing awareness of his own shortcoming, this is a series of linked yarns which would have you to pass Cameron another beer at barbecue and let him tell another story – while inwardly congratulating him on surviving, and for having the good sense to make that belated marriage proposal.