Graham Reid | | 2 min read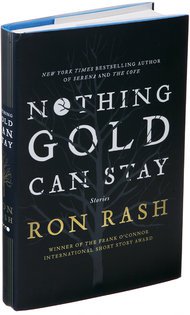 Being praised by, among many others, Daniel Woodrell – the author of the bleak Winter's Bone which was made into a suitably monochromatic and emotionally grim feature film – is indicative of where Ron Rash's fiction lies on the graph.
Woodrell's novel was set in the Ozark's where characters were haunted by methamphetamine addiction and poverty, Rash's sometimes not dissimilar world is that of the Appalachians (where he lives) which, in many of the stories here, is equally as dogged by danger, the possibility of sudden death and blighted lives.
Rash works with the dark Southern stuff like Flannery O'Connor, Eudora Welty and William Faulkner, but these spare stories – it's tempting to say, slices of life cut to the bone – take place across time as the author drops the reader into that dislocated period immediately after the Civil War, the sackcloth and hardscrabble land of Depression Years or the modern world where similar problems of odd loyalties, deeply held suspicions and fears, or characters spiraling downwards now come with layers of drug dependency and life on society's margins.
Rash is an exceptionally economic writer -- "[He] can create a character in a single sentence," said The Times of his previous collection Burning Bright which won the Frank O'Connor Award in 2010 -- and he quickly evokes an atmosphere of unease.
"The Shackleford house was haunted," opens the story Those Who are Dead Are Only Now Forgiven. "In the skittering of leaves across its rotting porch, locals heard the whispered misery of ghosts. Footsteps creaked on stair boards and sobs filtered through the walls . . . The house continued to fold in on itself and the meandering dirt drive became rough as a logging trail".
That this decaying house is the refuge of speed-wasted teens warmed by a flickering television provides a larger metaphor in an account of a boy's promise snuffed out by loyalty to a damaged girl he grew up with.
Elsewhere in these pages two addicted friends rob an old man of the most gruesome war mementos; a trusted prisoner freed from the shackles of the chain gang to find water meets a young woman imprisoned on a farm by marriage and poverty; and a police diver locates the body of young girl beneath a waterfall whose peaceful countenance suggests there is more comfort in cold death than perhaps in life.
Not everything here is so haunted. Sometimes, cleverly, the menace evaporates or doesn't come to fruition, there are unexpected flashes of light and comfort in the darkness. In Night Hawks a disfigured and loveless woman finds her place as host of a midnight-to-dawn radio show where "she would speak to the drunk and the sober, the godly and the godless. All the while high above where she sat, the station's red beacon would pulse like a heart, as if giving bearings to all those in the dark adrift and alone".
These stories – despite their regionalism, blood sacrifices, emotional disconnections and sketches of loneliness – grip because Rash's characters become real and are sometimes even possessed of a curious dignity, even if they are as snared by their choking circumstances as the kudzu grass which coils around rusting tractors.
Rash's words engage on a deeply human level and he creates such deftly constructed worlds that sympathetic readers may feel, as one character observes in a tale of a lake being drained and the fear of what might be revealed, it is possible to "look back and no longer tell what was and what is".